KNF to Present Two New Gas Sampling Pumps
KNF will be presenting two new gas sampling pumps for use in portable and stationary gas analysis devices.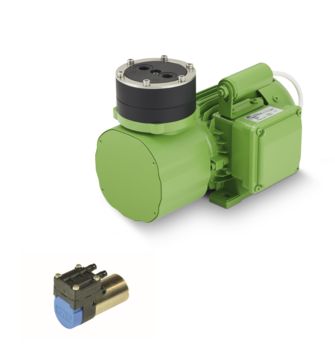 KNF Neuberger GmbH
Manufacturers of devices and systems for gas analysis must ensure valid measurements of air pollutants. In order to achieve this, it is essential that samples are taken and transferred with the utmost precision and reliability – this is where KNF gas sampling pumps come in.
Gas sampling pumps have different requirements profiles, depending on whether the measurements are conducted using mobile or stationary analysis systems. Optimizing the new NMP 03 and N 922 pumps to reflect these specific requirements was a top priority for KNF design engineers.
NMP 03 Micro-Diaphragm Gas Sampling Pump for Mobile Gas Analysis
When gas analysis is performed using portable, battery-operated devices, three characteristics are key: a long running time without the need to recharge the battery, rapid operational readiness and the prompt display of measurement results.
With a flow rate of up to 500 ml/min, the NMP 03 micro-diaphragm gas sampling pump provides the necessary speed, even for tamper-proof analysis of water soluble gases. The pump requires minimal power, which means fewer charging cycles are needed, thereby increasing the service life of the battery. At just 24 mm long and 11 g weight, the NMP 03 is a true micropump and ideal for use in portable analysis devices.
N 922 Diaphragm Gas Sampling Pump for Stationary Emission Measurements
For emission measurements using stationary analysis systems, high availability is crucial. If monitoring cannot be performed as legally required, the continued operation of a plant is in jeopardy. As a result, integrated pumps must be easy to service and feature a long service life. As a decades-long partner for process gas analysis, KNF is now expanding its portfolio for this demanding area of application with the N 922 diaphragm pump.
The N 922 features long maintenance cycles and requires just a few, inexpensive wearing parts. The only parts which have to be replaced are the diaphragm and valves, a task which must be performed once a year depending on how the pump is used. Maintenance work can be easily performed using a standard tool – there is no need for the pump to be removed from the analysis device. The pump design is so robust that it can be serviced, even in challenging environments, without incurring any damage. All of these advantages add up to pleasingly low operating costs.
As with all KNF pumps, KNF's modular system offers numerous options for the materials and motor as well as several different mechanical connections, which means the two new pumps can be easily and inexpensively adapted to meet individual requirements.