KMT Opens Up Sales Office in Moscow
For many years now, KMT has been working on building up an exemplary international network of local representations with the aim to always be close to its customers.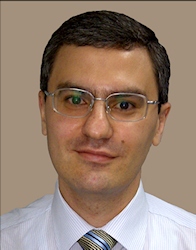 Vartan Mazyan (Image: KMT Waterjet Systems)
Considering this philosophy, the company decided in 2012 to set up a presence in Russia. Consequently, KMT opened up a sales and service office in Moscow on 1 January 2013.
Hence, KMT establishes a permanent customer contact to be even better able to serve its existing Russian customers and to further strengthen its position in this attractive growth market. So all of those who are interested in waterjet cutting gain a designated contact person who can cater to all customer demands in the national language.
Since the beginning of the year, the newly appointed Area Manager Russia, Vartan Mazyan, has been serving the sales areas of Russia and Cenral Asia from his office in Moscow. Mazyan was recruited on 1 September 2012 and participated in a comprehensive training in the company headquarters for Europe, Middle East, Africa and India in Bad Nauheim, Germany. Now, he is ready to proficiently answer all of his local customers' questions and requirements concerning waterjet cutting.