KEPL to Supply Pumps to Chinese EPC Major Sepco
Kirloskar Ebara Pumps Ltd will be supplying indigenously-developed API Pumps to the Chinese EPC major Sepco Electric Power Construction Corporation, popularly known as Sepco.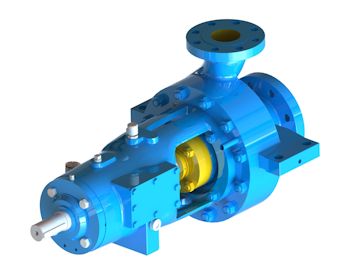 OH2 Pump (Image: KEPL)
KEPL pumps will be used in the Jazan Integrated Gas Combined Cycle Power Block project in Saudi Arabia. Saudi Arabia's Aramco is working with Sepco for this project for expanding the capacity of its main gas pipeline across Saudi Arabia.
KEPL is a pioneer in special purpose process pumps as per API (American Petroleum Institute) 610 standard. KEPL approval was revalidated by Saudi Aramco two years back after it was first approved in 2007.
As part of the overall Sepco order, KEPL is supplying VS6 vertically-suspended multi-stage pumps and OH2 Overhung pumps to handle Condensate, HRSG Blowdown pumps and Mixgas services, respectively, for the power plant. KEPL's VS6 pumps are designed with motor rating of 1225 kW and 7.5 kW, whereas the OH2 pumps have motor rating of 7.5 kW. KEPL has manufactured these process pumps as per the API (American Petroleum Institute) standard 610, the latest editions for critical services.
Commenting at this development, Mr. Aseem Srivastav, MD, KEPL said: "Sepco order for Saudi Aramco is key for enhancing our presence in the international market. Looking ahead, we feel that the global demand for critical process pumps is expected to grow internationally in the areas of Oil & Gas, Power and Fertilizer. We are looking to increase our international footprint by introducing our indigenously developed products to new markets."