KBL's LLC Pumps Series Receives the India Design Mark
To its array of achievements for various innovative and indigenously developed products, Kirloskar Brothers Limited has received yet national-level recognition for its LLC Pumps series.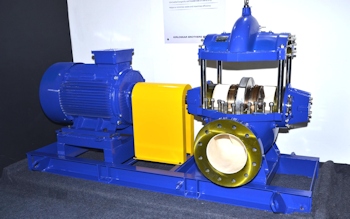 KBL Pump (Image: KBL)
KBL's LLC Pumps series has been granted the prestigious "India Design Mark" by the India Design Council.
The India Design Mark is a design standard, a symbol that recognizes a design that is useful and responsible. It symbolizes product excellence in form, function, quality, safety, sustainability and innovation and communicates that the product is usable, durable, aesthetically appealing while being socially responsible. There are three essential parameters need to be fulfilled for participation. The product has to be: Made in India, Designed in India or Sold in India. The India Design Mark design standard is granted after a diligent evaluation process aimed at identifying good design that exceeds the prescribed criteria of evaluation. Anyone, from global enterprises, micro, small and medium-sized enterprises or cottage industry, can apply for India Design Mark for their product offerings.
Commenting at the event, Mr. Ravindra Birajdar, Vice President (Corporate Research & Engineering Development), KBL, said "Being appreciated for doing well in any form is a welcome boost for a company and its products. This award not just recognizes our efforts to make our products more useful, but also motivates us to continue creating new, innovative and enriching products. The citation at national level boosts our commitment towards the Make in India initiative by the government."