KBL Launches Technologically Advanced GK-P Process
Kirloskar Brothers announced the launch of technologically advanced GK-P Pump at Achema.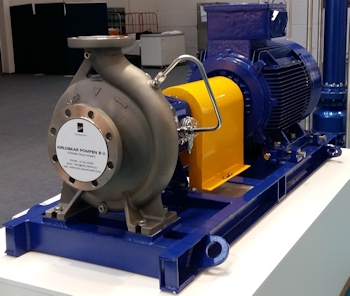 The design will help is easing maintenance and promote efficiency in operations (Image: KBL)
GK-P is a process pump used for handling various types of chemical liquids from various process industries. It is an End Suction centrifugal process pump having discharge capacity upto 500 m3/hr at 1450 rpm.With a size ranging between 25mm to 150mm, the pump can handle temperatures in the range of -50 ⁰C upto +350 ⁰C.
The wide range of smooth hydraulics will meet the customers' requirements and promote better efficiency of the product. The back pullout design will help in easy and quicker maintenance.
Mr. Alok Kirloskar, Managing Director, SPP Pumps Limited said: "We are pleased to launch our GK-P pump at Achema. The product caters to the process industry and thus this event serves as the right platform for us to connect with our prospective customers. The pump has ensured the best standards in terms of efficiency as well as ease in maintenance. The launch has helped us take our design to an international platform and thus reinforce our capacities to go global with yet another technologically advanced product."