KBL Launches New Website
Kirloskar Brothers Limited (KBL) launched a new user-friendly website to ensure a seamless flow of updated and relevant information to its various stake holders.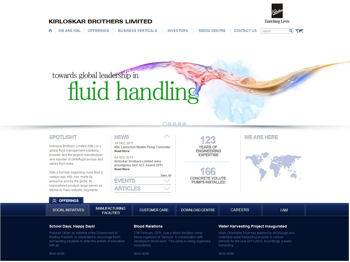 New Website (Image: KBL)
The website www.kbl.co.in with its innovative aesthetics, showcases KBL's global presence and its accomplishments. The website also demonstrates KBL's capabilities in designing and delivering highly engineered products and services to varied industries with fluid management needs. The website was launched at the hands of Bharat Gala, President, SNC-Lavalin Engineering India PVT Ltd. The occasion was also graced by T K Mandal, Advisor, SNC-LavalIn Engineering and many senior leaders of KBL.
Easy to navigate and designed to cater to specific requirements of various stakeholders across the globe, the website will engage and deliver detailed information on various aspects of the organisation such as its products and services, social initiatives, quality practices etc. The 'Download section' will enable customers to download product brochures, case studies and technical information, further adding to convenience and easy accessibility to information.
Speaking on the occasion Bharat Gala, said "Kirloskar Brothers Limited is an established name in fluid management. The new website will facilitate fast and updated flow of information, further paving way for smoother interface".
Avinash Purandare, Vice President & Head-Corporate Global Marketing & Strategy at KBL said, "KBL is enriching lives of people by delivering products and services that have addressed customer needs across segments. Over the years, KBL has developed and enhanced its capabilities to deliver world class solutions in fluid handling. The new website reflects KBL's total fluid management capabilities and extends information on company in a user-friendly manner."