"Just-in-Time" Just Got Faster
New Lovejoy "Configurator" guided, searchable database offers instant access to engineering expertise.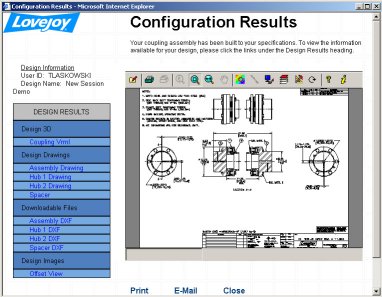 Why settle for stick figures when you can have a DaVinci? The new "Configurator" online tool of-fered by Lovejoy, Inc., translates raw data into usable, CAD drawings and dimensional data for various styles of flexible couplings used in multiple power transmission applications including pumps, compressors, and gear boxes. Viewers can download or even email their selection to a col-league, with the simple click of a mouse button.
Visitors to the web site can access Lovejoy's database of more than 20,000 couplings with selec-tions suitable for either inch or DIN metric specifications. Currently the Curved Jaw, Torsional LM and Disc couplings are configurable and available in engineering CAD drawings, with more styles to come in the near future.
The "Configurator" guides the user through a series of comprehensive, thorough questions and ac-cepts either inch or metric data, making it simple for either the novice or experienced engineer or maintenance specialist to select the right coupling for their particular need. To speed up and sim-plify the process, the Configurator can automatically compute certain parameters, such as torque, when the user enters horsepower and RPM.
According to Michael Hennessy, president of Lovejoy, Inc., "With our global presence, this new online agent meets the needs of our clients worldwide, with access to Lovejoy engineering exper-tise 24/7. While we actively partner with customers on product engineering, the 'Configurator' offers our customers an easy, interactive 'consultation' and often, a final solution for their coupling applica-tion requirements."
Special features the Lovejoy Configurator offers the user:
Definitions of coupling styles and terminology
Side by side comparisons of dif-ferent coupling styles
Photos, specifications and performance data
Options to view or download CAD drawings
Ability to edit coupling selection parameters
Custom configuration of selected coupling types
Specific part numbers for easy ordering
Ability to email drawings, photos or dimensional data
To tap into the power of the "Configurator", viewers to the web site simply register basic informa-tion about their company. Registered users can save previous design sessions for further use, and institute new or access previous searches anytime, 24 hours a day. A 3-D view software package is necessary to manipulate 3D models; several are available for free download off the worldwide web. A video demonstration on how to use the Configurator is available on Lovejoy's web site.