Just 2.5 cm with Big Pump Precision
The latest addition to the KNF range measures just 2.5 cm and weighs 32 g. Known simply as the NF5, the world's smallest diaphragm liquid pump is suitable for use in medical applications and in the cleaning and printing industries.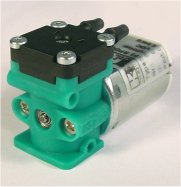 NF5 - the world's smallest diaphragm liquid pump by KNF Flodos
Sursee, Switzerland: From its base in Sursee, central Switzerland, KNF Flodos develops and manufactures a range of high-tech products that now includes the world's smallest diaphragm liquid pump. Measuring just 2.5 cm and weighing in at 32 g, it pumps liquids and liquid gas mixtures at a flow rate of 50 ml per minute.
State-of-the-art diaphragm technology made it possible to reduce the size of the NF5 so it is now significantly smaller than the other pumps in the product range. The NF5 has outstanding pumping characteristics and its impressive suction height of 4 m is yet another indication of the unmatched quality typical of KNF pumps.
The maintenance-free NF5 combines safety with reliability and is virtually inaudible in action. With its low current and power consumption, the NF5 is ideal for mobile, battery-powered applications but is equally suitable for use in medical/analysis applications and laboratories, and in the cleaning and printing industries.
The NF5 is available in two versions, differing in size, operating life and price. Simple installation in a vast range of systems and machines combined with hassle-free operation in many different positions make it a perfect all-round solution that ideally complements the existing Flodos product range.
KNF Flodos AG Switzerland is a member of the German-based KNF Group and distributes its products worldwide. Founded in 1987, the company has since focused all of its efforts on research and development and the production of liquid pumps and accessories. Its products are designed mainly for medical, printing and laboratory analysis applications but are also used by the automobile industry for exhaust gas analysis and in coffee machines.