Jung Pumpen Online-Update
There now is an online update available for Jung Pumpen's new version 8.0 of pump the selection software PEP.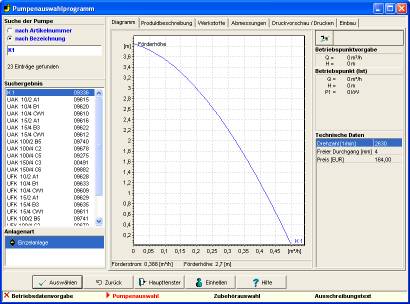 Now there is a product update for the latest version of PEP – the Pump Engineering Program. The update is done directly through the installed software. You go to the menu "Extras" and click on the option "Data update via Internet". After you finished the update, the data for the new condensate pump K1 are available right away and can be used in the selection program. The condensate pump K1 was introduced by Jung Pumpen on this year's ISH and represents a high-quality and enduring low-noise solution for condensate removal. The Steinhagen-based manufacturer has developed K1 especially for discharging aggressive condensate accruing in condensing boilers.
The PEP is regularly updated with the latest product data and helps planners, wholesalers, craftsmen and other users to easily select Jung Pumpen's pumps, lifting stations and pre-fabricated pump sumps. Offers with complete documentations as well as biddings can easily be drawn up. PEP works like an expert system with direct product access or with a step by step guide that leads to the product.
The PEP software is based on the pump selection software Spaix® by VSX – VOGEL SOFTWARE GmbH. Ever since the beginning of the cooperation in 1994, VSX has been in charge of developing Jung Pumpen's software solutions for the selection and configuration of centrifugal pumps as well as the compilation and configuration of entire pumping stations including, pump sumps, control units and equipment.