Jung Process Systems Increases Sales By 50 % in 2012
Since its foundation in 2009 Jung Process Systems, based in Kummerfeld near Hamburg, has concentrated on the engineering and marketing of Hyghspin hygienic twin screw pumps.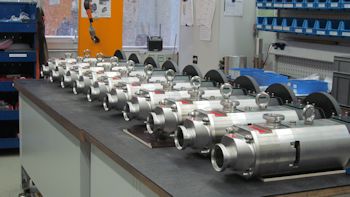 Hyghspin Twin Screw Pump (Image: Jung Process Systems)
With over 800 installed pumps and annual sales of approx. 3 million Euro in 2012, the company has quickly established itself on the world market for food processing pumps. Jung has also announced that sales were up by 50 % compared with the previous year.
Within the Jung Group, to which Jung Process Systems belongs, the company functions as an independent enterprise in exactly the same way as affiliates Jung & Co. Gerätebau and FAS Füllanlagenservice. Over the past four years Jung Process Systems has developed outstanding competence in the area of hygienic twin screw pumps. Applications in the beverage, dairy and foodstuff industry therefore were the key areas of use for Hyghspin pumps in the past financial year. Projects in beer and fruit juice production, processed cheese manufacturing and dough production were successfully concluded. A number of major projects during the past year involving the outfitting of completely new production facilities contributed in particular to the company s positive sales figures.
Further growth in sales expected
Based on the level of orders received during the first quarter of 2013, a very successful current financial year with double-digit growth figures is expected. The approx. 140 twin screw pumps sold during this period include a major follow-up order for 28 pumps from an existing customer in the USA, which had in the previous year placed an order for a package of 30 Hyghspin 50 and 70 pumps. Currently Europe and the USA account for over 80 per cent of the sales of Jung Process Systems. The company is looking forward to further interesting projects there in the near future – as well as increasing sales in the BRIC countries. The fruit juice industry in Brazil is investing in new plants for the production and transportation of juice concentrate. Over the medium term, Jung Process Systems also expects to see growth in sales to the emerging economies in Asia as consumers there increasingly demand clean and safely manufactured foodstuffs that pose no risk to health.
Because of the rise in sales, the production facilities in Kummerfeld are now reaching the limits of their capacity. In order to be able to grow more quickly than the market over the next few years, the commissioning of two new CNC-controlled machining centres and expansion of the company s facilities are planned. In addition, the network of worldwide sales partners is being systematically extended as Jung Process Systems expects continuing future growth in its core markets as well as in pharmaceuticals, cosmetics, fine chemicals and the chemical industry.