Jet Edge Publishes New Precision Waterjet Cutting Systems Brochure
02.03.2009
Jet Edge, Inc., recently released a new brochure highlighting its precision waterjet cutting products.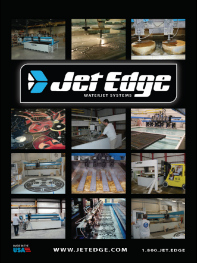 The brochure features Jet Edge's precision waterjet cutting tables, which include an expandable High Rail Gantry waterjet available in 2' increments from 4'X4' to 24'X14', a Mid Rail Gantry waterjet available in sizes including 8'X13' and 21'X13' and a Low Rail Gantry waterjet available in sizes up to 30'X100'.
The brochure also highlights Jet Edge's waterjet intensifier pumps, which are available in a wide range of horse powers and capable of producing pressures from 60,000-90,000psi, as well its precision water jet cutting accessories that include abrasivejet and water-only cutting heads, abrasive delivery, removal and recycling systems, and a closed loop filtration system.
About Jet Edge
Established in 1984, Jet Edge is a global designer and manufacturer of waterjet systems for precision cutting, surface preparation and coating removal. Jet Edge systems are used around the world in a broad range of industries, from the world s leading airlines to automotive, aerospace, industrial manufacturers, machine and job shops. Jet Edge waterjet systems are proudly made in the U.S.A.