Jet Edge Introduces ECO-JET Direct Drive Water Jet Pump
Water jet manufacturer Jet Edge, Inc. introduces the ECO-JET Waterjet Pump. The 55KSI 30hp ECO-JET features an efficient direct drive pump design that consumes up to 40% less electricity than a 50hp pump, but produces the same output.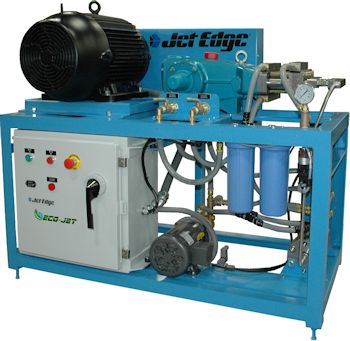 Direct Drive Pump (Image: JetEdge)
The ECO-JET produces up to 1 gpm of 55KSI ultra-high pressure (UHP) water for precision cutting, cleaning and surface preparation applications. It runs a .015 inch waterjet orifice and can power most manufacturers' waterjet cutting systems and waterjet tools.
In addition to the ECO-JET, Jet Edge offers 30-280hp waterjet intensifier pumps in 36KSI, 60KSI and 90KSI models, electric and diesel. Jet Edge also manufactures precision waterjet cutting systems, mobile waterjet cutters, UHP surface preparation equipment and water jet parts.