ITT Richter Invests EUR 700,000 for New Pump Testing System
Efficiency at the highest level: The new, efficient pump test stand is now available for the pump testing procedures.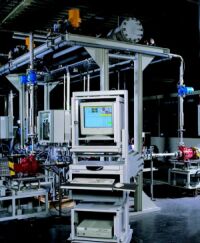 ITT Richter investiert in neuen Pumpen Prüfstand
A total of EUR 700,000 was invested
in the construction of the new stand.
Pumps with up to 600 m³/h and 25 bar
can now be tested.
Moreover, the new test stand was designed for parallel pump testing. This efficiency takes into account
the growing demands of our
customers worldwide and the
extended product range.
The latest measuring and control equipment and the tailor-made programs from Richter will, in future, simplify the preparation of the different technical documentation which is agreed in each customer order.
About ITT Richter
ITT Richter manufactures and markets plastic-lined and metallic magnetic drive and mechanical seal pumps, valves and measuring and control equipment.
ITT Richter was established in 1957, it has roughly 240 employees and has been an affiliate of ITT Industries, USA, since 1994.