ITT Flygt Supplies Pumps to Grimonport
ITT Flygt supplied two 450 kW centrifugal pumps to the Grimonport wastewater treatment plant.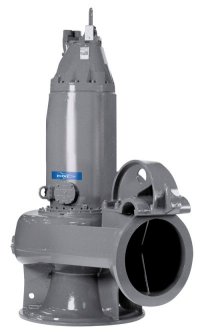 ITT Flygt's 450 kW centrifugal pump
Work has begun on extending the wastewater treatment plant, in Lille, northern France. When completed, the plant will have a capacity of a population equivalent of 500,000.
As part of this extension, ITT Flygt has provided 35 slow speed banana blade mixers, four screeners, 21 centrifugal and five propeller pumps at a total value of USD 1, 060,000. The order includes two 450 kW CP 3800 pumps. The first time the largest Flygt centrifugal pumps have been supplied in France. Each pump has a capacity of 3 600 m³/h at heights of up to H 26 m. The pumps are 3.5 m high and weigh 8.2 tonnes.
The station extension, which will cost a total of USD 68.5 million, is scheduled for completion at the end of 2003.