ITT Flygt launches the next generation of slurry pumps
ITT Flygt, the world's leading supplier of submersible pump and mixer solutions, has launched the next generation of slurry pumps. Designed specifically to handle the most abrasive slurries in a wide spectrum of tough industrial environments, the pumps have the latest ITT Flygt technology incorporated, ensuring high efficiency, reliability and a long working life.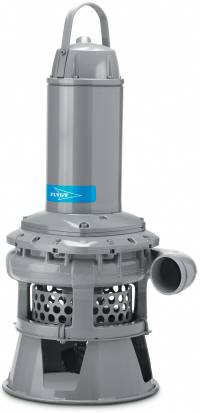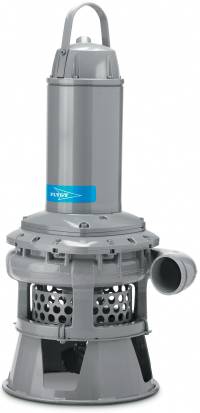 ITT Flygt: 5100 submersible slurry pump
ITT Flygt launched its latest range of submersible pumps in May, 2003, at the Achema (Frankfurt, Germany) – the world forum for process industry. The 5100 and 5150 slurry pumps have been specifically designed to handle the most abrasive slurries in a wide spectrum of tough industrial environments, from mining and mineral processing to power generation and steel sectors. The pumps range in size from 7.5kW (10hp) – 85kW (105hp).
The new class H motors have considerably reduced rotor losses, and heat generation is concentrated around the stator, which means less heat on the bearings. They have built-in sensors for high temperature and leakage, and can handle up to 15 starts per hour.
The inspection chamber between the seal unit and the bearings has a built-in sensor for early detection of any fluid build-up, reducing the risk of damage to the pump. The Plug-in™ seal unit fits exactly into place, meaning faster and simpler replacement. The design also protects the seal surface during disassembly and mounting. Whilst Spin-out™, ITT Flygt's patented seal wear protection protects the outer seal in the pumps by removing abrasive particles from the seal chamber.
The swept back design of the impeller ensures a homogenous flow between the vanes. This minimises the separation of solids in the liquid, resulting in extremely low wear rates and sustained high efficiency.
Each pump is supplied as standard with a built-in support stand, which eliminates the need for an additional support structure. The Victaulic® flange connection allows fast, easy connection to a wide range of commonly available fittings.
To ensure reliable operation and a long working life all wear parts are manufactured in high chrome and the impellers are specially hardened for maximum wear resistance.
Optional extras for the slurry pumps include an internal cooling system, agitator and side mounted mixer, all part of the ITT Flygt Clean Sump Technology.
The internal cooling system allows the pump to operate without overheating even when not fully submerged, enabling it to pump down to low slurry levels, reducing sediment built up in a sump. The Flygt agitator creates a vertical thrust force for maximum resuspension of particles, ensuring a cleaner sump. For large sumps with very coarse and heavy particles a side mounted Flygt mixer can be fitted to the pump to work in tandem with the agitator, creating a homogeneous flow and preventing sediment build up.
About ITT Flygt
ITT Flygt (www.flygt.com) is the world's leading supplier of submersible pump and mixer solutions. Our products are used in municipal wastewater treatment, industrial effluent handling, for general dewatering duties at construction sites and mines, and for process liquid handling, among others. We have 40 wholly or partly owned sales companies and are represented in more than 130 countries. The company has approximately 4000 employees of which 1500 are based in Sweden. ITT Flygt had a 2002 turnover of USD 632 Million. ITT Flygt is a subsidiary of ITT Industries, Inc., USA.
Our quality system is certified to ISO 9001 standards and our main factory in Sweden is certified to ISO 14001 international environmental standards.
About ITT Industries
ITT Industries, Inc. supplies advanced technology products and services in key markets including electronic interconnects and switches; defense communication, opto-electronics, information technology, and services; fluid and water management; and other specialty products. Headquartered in White Plains, NY, the company generated $4.99 billion in 2002 sales. In addition to the New York Stock Exchange, ITT Industries common stock is traded on the Midwest, Pacific, London, Paris, and Frankfurt exchanges.