ITT Fluid Handling Division Appoints Two Sales Representative Firms
ITT Industries has announced the appointment of two sales representatives for its Fluid Handling Division (FHD) products in southern Nevada and northern Georgia/southeastern Tennessee.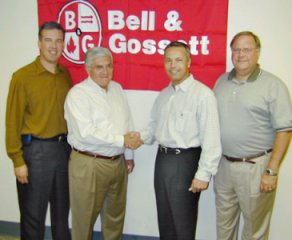 Engineered Equipment & Systems Company (EES) is FHD's newest sales representative. Founded in 1966 and based in Las Vegas, EES will sell FHD products in southern Nevada. EES is a manufacturer's representative for leading brands of engineered mechanical equipment and systems used in commercial and industrial air conditioning and heating, and plumbing systems.
The Clary Division of James M. Pleasants Company is Fluid Handling's new sales representative in northern Georgia and southeastern Tennessee. Clary Division is based in Duluth, Georgia, and provides integrated hydronic, steam and condensate system products and expertise. Clary is a division of James M. Pleasants Company, a stocking sales representative for FHD products in North and South Carolina since 1958.
ITT Fluid Handling Division products are sold in the United States by 33 sales representatives, including Engineered Equipment & Systems Company and Clary Division of James M. Pleasants Company. Fluid Handling Division brands and products include:
Bell & Gossett® centrifugal pumps, circulators, hydronic specialties, heat exchangers and packaged systems for variable and constant speed pumping, heat transfer and pressure boosting.
McDonnell & Miller® boiler controls, pump controls, flow switches and liquid level controls.
Domestic Pump® condensate transfer equipment for steam systems.
Hoffman Specialty® steam traps, regulators, vents and valves.