ISH 2005 – Innovations in Water Supply and Control Panels
impeller.net is at the ISH 2005 to tell you in part 2 of our report about innovations in the fields of water supply and control panels.
Pump Control Panels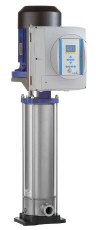 With the new speed control device PumpDrive by KSB all pumps constantly work within the optimum operation range. Besides the continued speed adaptation PumpDrive has integrated basic safety and security elements, which especially help to improve operational safety and therefore make external components unnecessary. PumpDrive is the only motor-mounted speed control device for pumps with power ratings up to 45kW an can be retrofitted to existing pumps - independent of the pump or motor brand.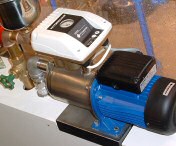 Highlights in the Lowara pump technology are advanced systems, supplied with new and advanced electronic controls that realize high operating reliance and energy savings. The company offers the well-known Hydrovar pumping system controller now also in a water-cooled model for motor power ratings up to 0,75 kW. The system distinguishes itself through a simple installation and low investment costs which makes it suitable for the application in homes and gardens. It can be installed into existing systems or is available as a complete system in combination with different pump types.
Vortex shows the new control unit for drinking water circulating pumps. It is possible to have a combined control through a digital timer and a thermostat. The module already has set programs but can be regulated individually. These modules are applied in the BWZ series and are available as add-on sets.
Submersible Pumps
The Italian specialist for submersed motor pumps Belardi has extended its product range by a new model which offers a flow capacity of up to 1500 l/min (25 l/s). According to the manufacturer, these products set themselves apart because of a very good price-quality relation.
The borehole pumps SCM 4 HF from Nocchi are new 4" models for high flows. In a power rating of up to 5 kW the pumps have a flow of up to 6 l/s with a max. head of 100 m. The construction guarantees dependable operation even when pumping rough, aggressive water.
The Italian specialist for electric submersible pumps SAER announced the opening of its new motor factory. Submersible motors between 4" and 12" and a max. power of 300 kW are available.
The Swiss pump manufacturer SPCO presents his new submersed motor pump series UG made completely of stainless steel. The corrosion resistance, the high efficiency and the low investment costs are the main advantages of these pumps. In addition, the application in sandy water is unproblematic - according to the manufacturer.
High Pressure Pumps
Stainless steel pumps specialist dp pumps extended the series DPVE by sizes 10 and 14. In these pumps, impellers are mounted on an extended shaft which makes the shaft bearings redundant. The pumps, designed for applications in pressure boosting sets, have an integrated non-return valve and are designed for drinking water applications.
The DPVCF series was especially designed for high temperature applications. A special heavy duty pump casing is supposed to withstand the strain caused by temperature fluctuations while special O-rings and high pressure mechanical seals take care of the shaft seal. The temperature ranges up to 120°C, although in special cases application above this value is possible.
The new Movitec high pressure pumps from KSB represent the technical advancement of the tried Movichrom series. The series has nine different hydraulics. All medium-exposed parts are made of corrosion resistant stainless steel (1.4301 or 1.4004). All that makes these pumps universally applicable and they are suitable for municipal applications as well as for pressure boosting in industry and building services, irrigation or fire fighting.
The Taiwanese manufacturer Luck Pump is specialized in stainless steel pumps with frequency converters for constant pressure boosting and water supply. The system, which is in its 9th development stage distinguishes itself through simple construction and dependable operation. The company, whose pumps are also found in the world's highest building, the Taipei 101 Tower, exhibits for the first time at the ISH and is still looking for distributors in Europe.
Pumps for House and Garden
The new water supply system SilentMaster from Wilo carries its name for a reason. The pump system which is used for the water supply in smaller objects, is - with 43 dB(A) - barely louder than a commercial refrigerator. The comfortable system solution comes in series with all necessary components such as sensors, controls and non-return valve. Also integrated is a dry-running protection.
Zehnder offers the fountain pump UP 550F with set-on frequency converter. This allows for a flexible control of the fountain height while advantages known from other applications, such as energy saving are used at the same time.
The first time at the ISH, coming from China, is Zhejiang Dayan Pumps. The manufacturer presents, among other products, the self priming jet pump DJC m60, which according to the company, offers the same quality at a much lower price compared with local manufacturers.