ISH 2003 Trade Fair Novelties – Part 3: Water supply / Stormwater
Part 3 of impeller.net's report on ISH trade fair novelties summarizes the most important product developments in terms of water supply and stormwater usage.
Water supply / Stormwater
The new multistage self-priming MXA series by Calpeda www.calpeda.de features very good suction behaviour and low-noise operation. Its new air removal system enables – compared with jet pumps - a space-saving design so that these three or four stage pumps fit in cup-shaped housings. Plastic and stainless steel components ensure corrosion resistance. The pump is available with asynchronous three-phase motors or alternating current motors and is used for domestic water supply, garden applications and irrigation.
Another novelty is Calpeda's pressure regulator IDROMAT 3 with its compact design. The regulator has been conceived for domestic water supply applications and is mounted directly onto the pump.
The Dutch pump producer DP-Pumps www.dp-pumps.com introduced vertical multistage centrifugal pumps of their DPVE series. The pumps designed especially for use in booster stations, excel in compact design and integrated check valves. Moreover, the booster is delivered with a stowable control cabinet which considerably reduces the station's transport volume and therefore freight costs. Single pump capacity ranges up to 8 m³/h and almost 60 m height. The units are propelled by suitable engines (between 0,37 and 1,1 kW).
Grundfos www.grundfos.de feels that their RMQ rainwater collection system represents an alternative in domestic water supply and garden irrigation. The system checks the tank' storm water level and, if necessary, fills it with drinking water in order to ensure sufficient water supply. A safe separation of drinking and rain water for public water supply is provided according to EN 1717 requirements.
SQFlex is Grundfos' electricity-independent water supply system. Basic element is a specially modified well pump powered either by solar or wind energy. Moreover, these two technologies can be combined. An emergency generator or a powerful set of batteries are also available for times when nature does not provide solar or wind energy in sufficient quantity.
ESPA www.espa.com presented TECNOPRES, the first dry-run centrifugal pump into which automatic starting and disconnecting modes and dry running protection are directly integrated. Assembling separate control components is unnecessary. This completely assembled booster set has been especially designed for fully automated water supply of detached houses.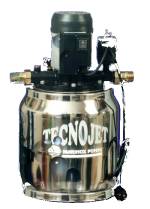 For rain water usage ESPA exhibited their RAINLEADER series. The pump is available in two versions. The way the tank's rain water level is checked differs. While Rainleader Comfort checks the level by means of a differential pressure sensor cable Rainleader Tecno has an integrated wire-less measuring device. This instrument checks the filling level and automatically falls back on using drinking water if sufficient supply cannot be guarantied by rain water alone. The pump can also be switched manually and at any time to using drinking water only.
KARB Italia's www.marinox.it automated pressure controller Tecnojet has been developed for domestic water supply and irrigation of small-sized areas.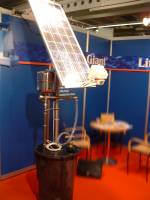 Tecnojet is powered by alternating current motors ranging from 800 up to 1500 Watt. From the manufacturer's point of view, low-noise operation, compact design and long life-cycles are the benefits of this system.
Little Giant's www.littlegiantpump.com SPS solar powered pumping system (available from Calpeda) is a complete plant for water collection and water supply. The scope of delivery comprises the solar panel, the pump, the control unit, the sensor cable and the assembly system. SPS is ideal for localities where cable laying is intricate and costly. The pump can operate in two ways: it can either pump water from wells into open reservoirs or transport fluids from reservoirs to pressure vessels (diaphragm accumulators).
Sta-Rite www.nocchi.it exhibited their new frequency converters, type Vario, which are able to control high-pressure centrifugal pumps. Vario's application range shall also be extended to other pump types. The control unit is mounted directly onto the pump actuator. Its intelligent electronic equipment, developed in cooperation with Schneider, is supposed to adapt automatically to current operating conditions. Vario disposes of an integrated motor protection. In addition, Vario 1 runs on alternating current and can be connected to three-phase asynchronous motors with a power of up to 2,2 kW. The unit is delivered completely assembled and ready for operation. Vario 3 is available with three-phase asynchronous motors with a power of up to 11 kW. Vario can be used, amongst others, in water supply applications.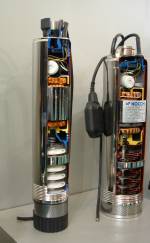 Furthermore, Sta-Rite introduced their multistage 4" bore hole pumps (Dominator 4 series) equipped with special plastic impellers suitable for sand polluted water, according to the manufacturer.
Wilo's www.wilo.de new 4" submersible borehole pump Sub-TWI 4 features reliable construction due to stainless steel reinforced components and maintenance-free wet running motor technology. Its sectional design enables quick inspection. The pump having an integrated check valve is suited for discharging water of a sand content of up to 80 g/m³.
Wilo-TWU 4 PnP is a complete package for sprinkling, garden irrigation and domestic water supply. Apart from the pump the package comprises any components necessary for operation. These components are easy to assemble and to install. Further new developments by Wilo are to be found in the field of high pressure centrifugal pumps, booster stations and rain water usage.