Iron Pump Expands Market Position Through Purchase of Ellehammer A/S
The two Danish pump companies will gather production and sales activities from November 1, 2017.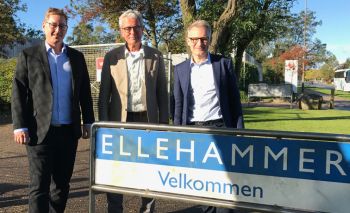 Iron Pump
The Danish pump manufacturer Iron Pump A/S in Søborg is expanding its market position by buying Ellehammer A/S. The two companies have partnered closely for many years and are now going to merge all of their operations. The take-over will take effect from November 1, 2017.
Iron Pump in Søborg and Ellehammer in Glostrup together have 224 years of experience and are strong players in the pump manufacturing industry where they have supplied pumps to, among others, shipping companies and the maritime industry for a lifetime. The two businesses are now joining their efforts when Iron Pump takes over all of Ellehammer's activities.
Iron Pump CEO Anders Frimodt-Møller states: "We're combining the best from two fields – Iron Pump with our expertise within cooling and ballast pumps and Ellehammer's unique range of pumps for efficient fire fighting. Our two Danish companies have proud traditions, and I'm pleased that all activities will remain Danish-owned."
The merger will see Ellehammer's activities moved to Iron Pump's modern development and production facilities in Søborg, but each of the companies will deal with their own specialties and Ellehammer will retain its independent brand. Ellehammer manufactures pumps for fire-fighting and Iron Pump supplies the market's most efficient ballast and cooling pumps.
Anders Frimodt-Møller adds:
"The merger underlines our competences within exciting and growing fields of business, and, in the years ahead, we'll exploit our opportunities for expanding markets and developing products worldwide."
Iron Pump has had proud traditions within production of high-quality pumps for ferries and trade vessels since the world's first diesel-propelled vessel had a pump from Iron Pump installed in 1906. Through the twentieth century and beyond the company has developed continuously and Iron Pump recently initiated a campaign to increase its activities within complex pump solutions for large industrial construction works, the offshore industry, industrial plants and other sectors.