Internet Based Telemetry System
Effective, real time telemetry software is essential for optimal water management today. With the i-View telemetry system you are taking an important step into the future.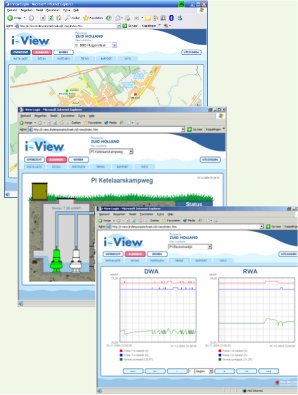 (pictures: Van der Linden Pomptechniek).
Concepts such as discharge, water management, water monitoring and sewer overflow discharge can only be managed as a whole if a good, efficient and real time computerized management system is applied. Practical solutions are demanded, not empty slogans. Van der Linden Pomptechniek offers the solution with the innovative i-View telemetry system.
Acquire real insight with web technology
i-View software was developed from the latest web technology. The JAVA and ASP.Net applications led to the powerful and flexible i-View telemetry system; an intelligent application with extensive possibilities for information processing at a distance, displaying process data and for having the necessary decision variables always on hand. i-View is an internet technology-based system using TCP/IP for monitoring your installations from a distance. i-View is a real time communication methodology combined with internet and intranet facilities.
The i-View is based on Microsoft.NET technologies. These technologies are specially suited to applications with data exchange and online (remoting) functionalities. Furthermore, Microsoft.NET has already proved itself in areas of stability, performance and security. Through XML.NET has also integrated with nearly all existing platforms, making it effortless to create links between the .NET application and external systems.
Log on screen
After entering the address in de web browser the user is asked to identify him/herself with a username and password. This information is relayed using a secure SSL connection.
Geographical overview
It is possible to map the entire field of operations to allow a geographical overview of the installations. This window displays online the current status of all connected installations.
Installations
Through an open connection to the installations, you can monitor the current data from any location you wish. The straightforward operating and presentation style ensures a user-friendly, timesaving experience. Company data is tabulated on detailed screens with dynamic images.
Reports
i-View has a unique interactive presentation system whereby it converts information into historical datasheets or trending reports. All reports can be produced as monthly or annual reports in a PDF format.