International Stockholm Junior Water Prize Awarded to U.S. Student
Alison Bick of the United States was named the winner of the 2011 Stockholm Junior Water Prize (SJWP), the most prestigious international student competition for water-related research which is sponsored globally by ITT Corporation.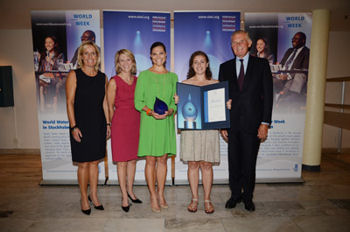 The award was presented today to Alison at the annual World Water Week celebration in Stockholm for her development of a low-cost, potable and publicly-accessible method for testing water potability.
Alison developed several devices to test water for harmful bacteria and accurately determine water quality. Bick's cell phone-based testing procedure can measure the bacteria content of water and was proven 99 percent accurate.
H.R.H. Crown Princess Victoria of Sweden presented Alison with a $5,000 award. Alison also received an invitation to present her findings at the Water Environment Federation annual conference in October, the largest water quality and technology event in North America.
"We commend Alison for this achievement," said Gretchen McClain, senior vice president of ITT and president of its Fluid and Motion Control group. "Every year we are inspired by the groundbreaking work of students across the world and their commitment to finding new and innovative solutions to our world's greatest water challenges. We are extremely proud of Alison and all of the participants in this year's competition for continuing to harness their curiosity, intellect, and creativity to help solve our global water issues."
The selection jury also awarded a Diploma of Excellence to Prasan Warnakula from Sri Lanka for his project to investigate the possibility of making paper pulp out of low-grade recycled paper.
The international Stockholm Junior Water Prize is presented each year to students between the ages of 15 and 20 for outstanding water-related projects that focus on topics of environmental, scientific, social or technological importance. Winners from more than thirty national competitions competed for the international honor, which was awarded by an international jury of water professionals and scientists. The prize is administered by the Stockholm International Water Institute.
Picture: From left to right: Helene Brinkenfeldt, Manager of the Stockholm Junior Water Prize; Gretchen McClain, ITT senior vice president and president of ITT Fluid & Motion Control; H.R.H. Crown Princess Victoria of Sweden, the Patron of the Stockholm Junior Water Prize; Alison Bick, 2011 Stockholm Junior Water Prize winner and Peter Forssman, Chairman of the Stockholm Water Foundation