Intelligent Pump Monitoring with ATEX Certification from Allweiler
Allweiler exhibit its intelligent condition and operation monitoring system. Known as IN-1000, it is now also available with ATEX certification for use in EX zones.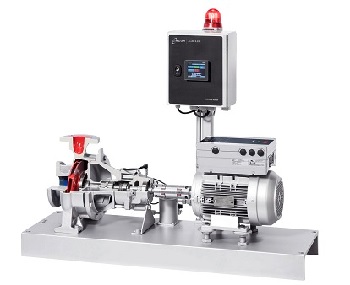 IN-1000 was developed specifically for Allweiler pumps that are used in operationally-critical and environmentally-sensitive applications in chemical engineering. This system improves safety while reducing operating costs. Allweiler is a business segment of CIRCOR.
The "smart platform" IN-1000 can be used for a wide range of condition monitoring applications, from simple, single-pump installations to complex, multi-pump systems while improving safety and reducing operating costs simultaneously. As a result, maintenance and repairs can be planned in advance, there are no unplanned production downtimes, and maintenance intervals can be extended. Specific examples include monitoring of temperature, leaks, and vibrations. The system may also be expanded with standard industrial sensors (e.g. for pressure). It can be added to a variety of new Allweiler pumps or retrofitted to existing pumps.
Allweiler s IN-1000 condition monitoring device is now also available for EX zones. It will be delivered with the necessary certifications for operation in ATEX Zone 2, Class 1, Division 2. All components, from measuring devices and cables to the barrier box, are certified for EX zones.
Photo: The IN-1000 master module displays notifications and sensor values from all pumps and forwards them over the Internet, for example, to the master control panel, computers, smartphones, or tablets. (Image: Allweiler)