Intelligent Fresh Water Module from Sonnenkraft
The new fresh water module from Sonnenkraft can be fitted with an intelligent circulation pump that only produces hot water when the end-user needs it.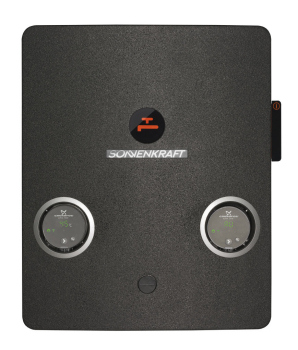 SONNENKRAFT
The fresh water module used in the COMFORT E Plus solution for hot water and room heating has numerous benefits, including the optional circulation pump that brings intelligent management of solar thermal energy to a new level. The circulation has an automatic tap detection that over time collects information about the amount of hot water usage and at what time it occurs. This information the circulation pump uses to control when to circulate hot water and when to switch off.
"The circulation pump eliminates the waste of energy that otherwise occurs from needless circulation of hot water when nobody uses it because they are at work or sleeping. By having a self regulating fresh water module the end-user will save a lot of money," says Country Manager/General Manager from Sonnenkraft.
The circulation pump is not the only high-tech feature of the fresh water module for COMFORT E Plus solutions. The brain of the module is the highly efficient Grundfos Alpha Pump. It uses 80% less energy than was previously the case, and the communication between the pump and the sensor box is wireless and self connecting.
"We want to make solar energy solutions efficient and easy for both the client to manage on an everyday basis and for the professional to install and maintain. The new intelligent fresh water module is a true milestone within management of hot water and room heating solutions, but I am certain that we also in the future will be able to celebrate new milestones," says Country Manager/General Manager.
High efficiency pumps are expected to be mandatory by law as soon as 2013. By already having a high efficiency pump rated energy class A the fresh water module from Sonnenkraft already meets these future requirements.