Integration of High-efficiency Glanded Pumps in Building Automation
Building automation (BA) systems are used in many large properties. They contribute to increasing the level of comfort enjoyed by users as well as boosting the operating reliability and efficiency.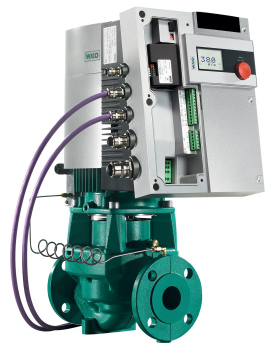 Wilo
Connected components can be operated efficiently, and maintenance can be optimised. All in all, cost savings of between 10 and 30% can be achieved compared to buildings without control systems. The pump technology that is used, such as in heating and air-conditioning systems, can also make a contribution to this. Ever since autumn 2011, the "Wilo-Stratos GIGA" high-efficiency pump series has been available for the upper performance range in heating, cold water and cooling applications. The Dortmund-based pump specialist, Wilo SE, is thus setting new standards in terms of the energy efficiency of inline pumps.
For the first time, EC motors with extremely low energy consumption are used for driving glanded pumps. Their energy efficiency is based on the new drive concept from Wilo, called High Efficiency Drive (HED). Indeed, the motor efficiency values even exceed the limit value of the future efficiency class IE4 (as per IEC TS 60034-31 Ed.1), which is set to be the highest. Furthermore, the hydraulics of the pumps is optimally adapted to the motor technology. As a result, it is possible to save as much as EUR 85,000 in energy costs per built-in pump over 15 years, compared to a conventional pump without speed control (based on the "Blauer Engel" load profile).
The new high-efficiency pumps in the "Wilo-Stratos GIGA" series are not only particularly energy efficient, they can also be integrated easily into BA systems. Wilo offers various interface (IF) modules for flexible integration of the electronically controlled pumps into the particular BA infrastructure. These interfaces that can be plugged into the pumps make it possible to integrate the new high-efficiency pump series into building automation systems straightforwardly. The pumps can be integrated into the building automation directly, because there is no need either for separate hardware such as gateways or a 0-10 V interface.
The building automation can send open and closed-loop control commands to the pumps via the IF-Modules. In turn, these transmit operating data such as pressure, flow rate and power consumption, current consumption and the number of operating hours to the primary control unit, as well as various malfunction and fault statuses. The system does not wait for an error message before it reacts, however. It is able to identify critical operating statuses in advance, which represents a contribution to reducing maintenance costs. After all, early detection makes it possible to respond to the actual fault causes in good time.
Rapid installation or change of the IF-Modules not only accelerates installation of new systems, but also makes the job of retrofitting or reconfiguring existing installations much quicker. The IF-Modules are simply installed in the pump terminal box and wired up. During upgrades and conversions of building automation systems, it is sufficient to exchange the IF-Modules. This means they offer an extremely compact solution to the challenge of system integration. IF-Modules are available for all commonly used bus communication standards, including BACnet, CAN bus and Modbus.