Inpro/Seal Raises Record Donation for Local Charity
The 30th annual Inpro/Seal VIP Charity Golf Tournament raised a record $23,066 for Aspire, a non-profit recognized throughout the Midwest as a leader in providing bold, pioneering and uncompromising services to children and adults with developmental disabilities. This year's donation is $3,000 more than last year's record donation.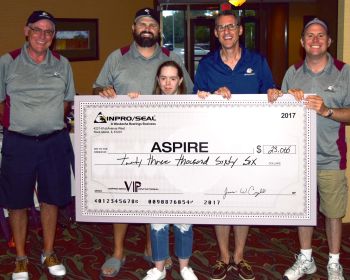 Inpro/Seal
One hundred twenty-eight Inpro/Seal customers, vendors and employees attended the Inpro/Seal VIP Charity Golf Tournament, held Monday, August 14 at Oakwood Country Club in Coal Valley, Ill., to raise money for this deserving local cause.
The $23,066 donation was supported in part through a matching grant initiative by the philanthropic arm of Inpro/Seal's parent company, Dover Corporation. The Dover Foundation helps to support not-for-profit organizations, causes and/or projects that benefit the local communities in which its operating companies are located. The Inpro/Seal family contributed to the cause through charitable giving, sponsorships and on-site events.
"This year's record-setting VIP Charity Golf Tournament saw the most attendees and largest donation in its 30 year history," said Jim Coryell, Inpro/Seal Director of Sales – Americas. "It's exciting to watch this event grow through the years and make a large impact in helping those with developmental disabilities."
Inpro/Seal has partnered with Aspire for the last six VIP Charity Golf Tournaments, raising more than $93,000 to support the non-profit's enterprises, including Aspire Kids, Aspire Careers and Aspire Living.
"We are so humbled and grateful to have the support of incredible partners like Inpro/Seal and Dover Corporation," said Jim Kales, CEO of Aspire. "This record-breaking check will help hundreds of kids and adults with developmental disabilities to get the therapy, job training, and life skills they need and deserve."