Inpro/Seal Participates in River Bend Foodbank's Backpack Program, Providing Meals for Kids
During the 2017 Inpro/Seal International Sales Meeting, 25 members of the Inpro/Seal family filled backpacks for the River Bend Foodbank Backpack Program. Every year, the Inpro/Seal sales meeting includes a service event to benefit the local community.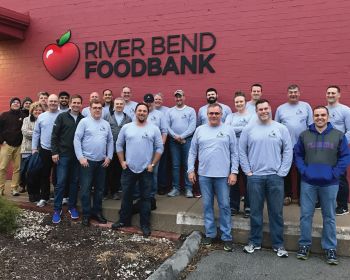 Inpro/Seal
. This year's meeting was held February 21–23 in Rock Island, IL, home of the Inpro/Seal headquarters and North American manufacturing center. For the second straight year, the sales team volunteered at River Bend Foodbank in Davenport, IA, part of the Quad Cities region along with Rock Island.
River Bend Foodbank's mission is to lead a community-wide effort to end hunger in eastern Iowa and western Illinois. Established in 1982, River Bend Foodbank collects food donations from the food industry and distributes them to more than 300 charitable community organizations that support the hungry. River Bend Foodbank is the most cost-effective distributor of donated food in the community. Serving approximately 2,600 kids every week, the Backpack Program is designed to ensure that children don't go hungry over the weekend, when school lunches and breakfasts aren't available.
In a single afternoon, the Inpro/Seal team packed more than 2,700 backpacks, enough for just over a weeks' worth of meals. Through direct donations, the group also raised $315 for the program, which is enough to purchase over 1,500 meals.
"We were very excited to work with River Bend Foodbank again. Nothing makes us happier than knowing we made a difference in the lives of the children in our community," said Tim Sexton, Vice President and General Manager of Inpro/Seal.