Inline Degassing System ViscoTreat-I
The new generation of the fluid degassing and preparation system ViscoTreat I introduced by ViscoTec Pumpen- u. Dosiertechnik GmbH shows substantial product innovations with improvements for process, system operation and maintenance.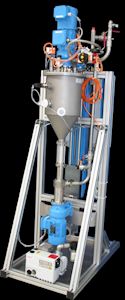 © 2013 ViscoTec Pumpen- u. Dosiertechnik GmbH
The new ViscoTec system still offers all well known features for a continuous degassing process (inline degassing), which de facto allows an uninterrupted production process in contrast to any batch-wise system approach. The system runs fully automatically within a continuous production flow and does not require any additional operator assistance.
Substantial modifications have been established in the area of hose and sensor connection technologies. Up to now level sensors were installed on the system fluid tank via conventional threaded joints. With the actually introduced system generation ViscoTec deliberately focused on a sensor connection technology with specific benefits in system handling and system maintenance. The redesigned connection principle is highly vacuum-tight and additionally allows a multiple installation and removal of the sensors without loss of seal quality. An accurate and repeatable adjustment of the sensor position at the system ensures precise level messages. This improved connection concept makes it possible for users now to dismount the sensors from the system with each cleaning cycle for easy cleaning. Cleaning and maintenance work can be carried out in a much shorter period of time. The introduced connection principle of the new ViscoTreat-I product generation is implemented at the hose system as well. The design offers as well all benefits regarding cleaning and maintainability by means of a simple and reliable hose connection method.
The system is furthermore equipped with a new controller unit based on an operator terminal with touch-screen control panel. System configuration, setting of process parameters, system calibration and the handling of the entire service menu is designed for clear and intuitive operation within a newly developed user interface. Also the online display for current process parameters comes with a clear and well arranged layout.
The remarkable process accuracies for a high quality degassing and fluid preparation process were transferred to the new system generation in the full extend. ViscoTec Pumpen- u. Dosiertechnik GmbH offers a base system with media container, drive unit and system controller. Users can additionally select from a variety of different sensor technologies and stator materials for the individual, application specific system configuration.