Inline Adapter and Inline Pump for Stainless Steel Transducers
Attractive accessories are now available for the density and concentration measurement of two- and three-component liquids: The special accessories Inline Adapter and Inline Pump by Anton Paar complement the new transducers with stainless steel housing DPRn 427S and DSRn 427S.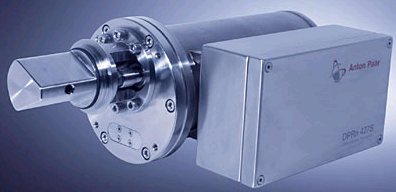 Both the Inline Adapter and Inline Pump are mounted directly in the main line. No bypass is required. Both accessories have a long working life. All wetted parts are made of stainless steel.
The Inline Adapter is designed for a constant flow rate of over 1 m/s. The sample is forced through the Adapter by the dynamic pressure of the liquid.
The Inline Pump is ideal for main line flow rates of less than 1 m/s. It ensures reliable measurement even under flow-stop and start-stop conditions and when there is low flow speed in the main line.
Anton Paar GmbH produces high-quality measuring and analysis instruments for research and industry and is a contract manufacturer of high-precision mechanical assemblies and electromechanical components for companies all over the world.