Industrial Pumps, Valves and Systems 2009
IPVS 2009 – the 3rd edition of Industrial Pumps, Valves & Systems will be showcased in Mumbai, the commercial Capital of India from 29 – 31 October 2009.
IPVS is India's first ever & biggest event of its kind in Asia–Pacific.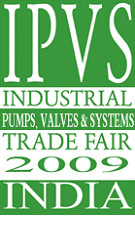 IPVS 2007 & 2008 have witnessed 240 key Exhibitors and 6000 serious Business visitors from India, Australia, China, Germany, Hong Kong, Iran, Japan, Korea, Malaysia, Pakistan, Russia, Singapore, Sri Lanka, Taiwan, Thailand, Turkey, UAE, USA to name a few .
Why you should be a part of Industrial Pumps, Valves & Systems Trade Fair 2009:
A wonderful opportunity to NETWORK with Indian & International Industry leaders.
Meet the DECISION MAKERS
A perfect medium to LAUNCH NEW PRODUCTS and Services
An opportunity to BUILD new BUSINESS CONTACTS
receive INDUSTRY UPDATES
Gain GLOBAL EXPOSURE
The event taking place in the COMMERCIAL CAPITAL of India, ranked 10th amongst the biggest centers of commerce in the world. This in itself opens the door to several Business prospects
For further details please contact :
Shital Phondge
Manager – Exhibitions
Orbitz Exhibitions Pvt. Ltd
202, Navyug Industrial Estate
T J Road
Sewri ( West )
Mumbai – 400015
INDIA
Ph : +91-22-24102801/2/3
Direct : +91-22-24197415
Fax : +91-22-24102805