Industrial Business Unit of EBARA Pumps Europe – The OEM Business to expand
One of the EBARA Group's companies, EBARA Pumps Europe S.p.A. (EPE) in Italy is accelerating its strategy in OEM* business.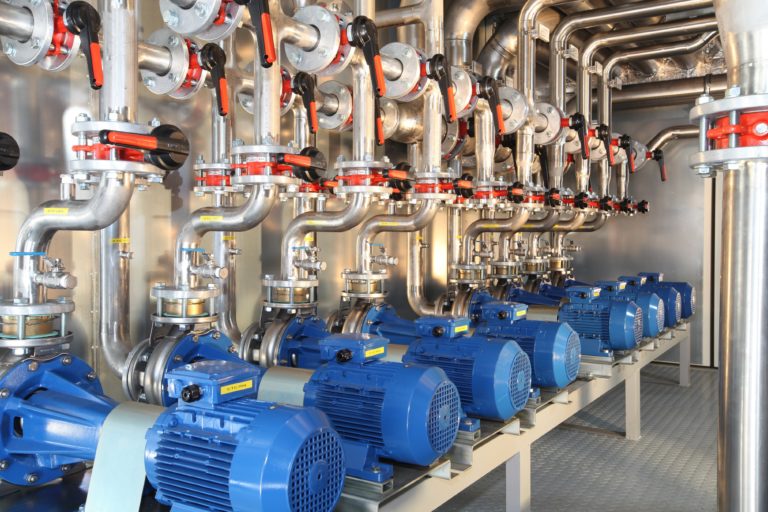 Pumps installed in Frankfurt Airport, Germany. (Image source: Ebara Corporation)
It is a part of measures to maximize revenue through initiatives tailored to regional markets in accordance with the regional strategy of EBARA's medium-term management plan, E-Plan2022. EPE has increased its market share in the past few years by establishing the Industrial Business Unit (IBU).
Background
EBARA's stainless steel pumps are used by OEM customers all around the world with a growing success. In 2016, EPE decided to focus more on the OEM market in offering machine building customers pumps made to their application combined with flexible support. IBU is a specialized department that actively develops customized solutions for OEM customers, based on their specific applications.
About IBU department
A network of OEM sales staff at EPE for all main European markets has been set up. IBU department located in Gambellara, Italy, EPE's headquarters, is much more than only a group of engineers. In fact, the team has experts for all the process of related functions such as planning, codification, order processing, assembly and testing to ensure best possible service to customers. For fast reaction on complex technical matters, OEM sales staff all over Europe has direct access to IBU department in Italy. In the meanwhile, being part of EBARA's global headquarters, the IBU is offering its service for EPE products to EBARA group companies as well. In the global market, the IBU's OEM business has successfully led to contracts with various OEM customers such as leading chiller manufacturers within the last two years.
The IBU is responsible for all requests and activities related to the OEM market segment; its main target is to increase customers' satisfaction with fast, flexible, and reliable service and tailor-made solutions. Sven Peter Erbes, OEM Manager, who leads the team as the head of the IBU, says "In the last 4 years, we have gained massive increase of share in OEM market. We invite you to become part of this story. The strength of EBARA as a global company is our technology and product quality accumulated over the course of one hundred year's history with a proven track record of standard pumps sales in Japan, where the market share is NO.1. We still have further potential here in Europe as well as other countries."
Future plan
Since 2016 EPE has established IBU, the sales growth rate has been increasing by more than 10% each year in OEM market. They are currently working on new products development schedule that might bring further success. Based on its technology and trust from the market since the foundation, EBARA will also strengthen the global product development system which enables to provide solutions to its customers in a fast and flexible manner.
EBARA Group aims at Sustainable Development Goals (SDGs) through tackling ESG materiality issues based on its long-term vision and mid-term management plan and makes efforts to further increase its corporate value.
*OEM: A company that produces machines and systems using pumps as a component for their product (such as chillers, washing machines or water treatment systems).