India's Ekki Pumps Rolls Out All New Range of 6
Ekki has unveiled its all new range of 6" Closed Coupled Borehole Submersibles for its global markets.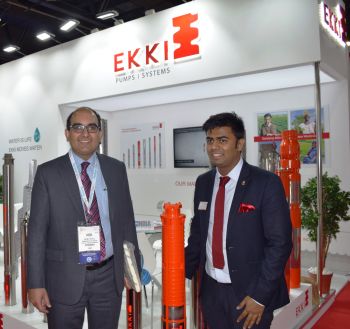 Honorary Consulate General of India to the United Arab Emirates Mr.Vipul along with Mr.Kanishka Arumugam, Director of EKKI unveiled the 6CC Series for the West Asian Markets at Big 5 Show in World Trade Centre Dubai (Image: Ekki Group)
The 6" Closed Coupled Submersible Range(6CC Series) ranges from 1 HP to 3 HP and is the first of its kind in the world; features for both Borehole and Sump Submersibles covering about 71 Models(single shaft and split shaft models), which can deliver High Head upto 140 Meters and High Discharge flow upto 48m3 per hour.
These energy efficient 6" Closed Coupled Submersibles, pumps can be used to draw water from any type of clean water sumps such as Boreholes, Tanks, Wells, across Agriculture, Building Services and Public Utilities markets.
The single shaft construction in the 6" Closed Coupled Submersible enables a more sturdy construction and the shaft alignment is specifically designed to reduce the vibration issues. They have special winding designs for low and high Voltage operations and are easy to rewind, thus enabling extended life operation of the pump. It is also designed for easy installation to lower service time & reduce life cycle costs when compared to Boreholes Submersibles.
These light weight 6" Closed Coupled Submersible has its own Hydraulic design; available in Single Phase for standard agricultural applications. Our Pumps are unique in design with some additional features:
- Locking strips throughout the pumpset length
- Pumps of two kinds: Sheet metal Impellers with Noryl Diffusers & Casting Stainless Steel Impellers with Casting Stainless Sheet Diffusers.
According to Mr. Kanishka Arumugam, Director Ekki Pumps. "As part of our Project "Ekki 2020" we are looking at approaching 10 Global Markets to achieve 7% of our group revenues within a target of 3 years through strategic International Distribution Partnerships. We are now actively scouting and signing up sales Partnerships with Distributors globally".