Independent White Paper Concludes WMFTGs Quantum Technology 'Successfully Addresses Many of the Current Limitations Seen in Single-Use Pumps'
Rigorous testing and data analysis from independent consultant, PDS Sandbox LLC offers conclusive proof that Watson-Marlow's Quantum 600 peristaltic pump demonstrates an: "…excellent level of precision across a full range of pressures (up to 4 bar) with low shear that is approximately 50% lower than that of the Quattroflow QF1200SU pump from PSG Dover."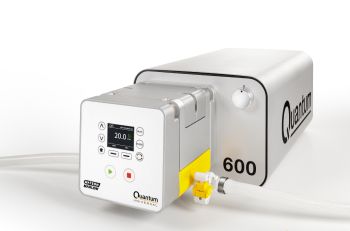 Watson-Marlow Fluid Technology Group
Published in a White Paper, the results and findings from PDS Sandbox also confirm that the Quantum 600 pump has minimal impact on CHO suspension cell cultures. The report's opening abstract states:
"This performance is better than would be expected with traditional peristaltic pumps and is comparable to the Levitronix PuraLev 200SU centrifugal pump but without the limitations of a strong pressure/flow dependency."
This pump is ideally suited to filtration and chromatography applications with flows in the range of 3 to 20 liters/minute where high pressure, low pulsation and low shear are required.
Based upon the excellent accuracy of the Quantum 600 peristaltic pump, PDS Sandbox also recommends that this technology is used for the delivery of target volumes. In many cases, this removes the need for secondary checks (load cells, scales, flow meters). This provides a simple solution where, after calibration, the pump can be run at a set speed and time to deliver a desired volume accurately enough for a wide range of applications.
Commenting on the report, Tony Barrass, Product Manager at Watson-Marlow Fluid Technology says:
"We are delighted with the overall conclusions of PDS Sandbox's report and how well it highlights the superior performance of the Quantum 600 pump in relation to competitor products.
The results clearly support our claims that Quantum is both low pulsation and very low shear and also confirms that this innovative new design leads the way in offering linear flow control that is both accurate and independent of downstream pressure.
This advances what is possible with peristaltic technology in processes such as tangential flow filtration (TFF), virus filtration (VF) and gradient high precision liquid chromatography (HPLC)."
"We have always believed in our exceptional technology. However, to have independent validation reinforces our confidence in Quantum. This is important news for our biotechnology and pharmaceutical customers for whom accuracy across a wide range of pressures and flows and proof of very low shear is essential."
The pump comes with a simple, intuitive control interface and is a robust flexible design with an easy to install single-use pump head cartridge which is reliable and fully validated.