Increased pump performance with new lifting station
Wilo Salmson Pumps has launched a new sewage lifting system capable of servicing multi-family dwellings and providing both reliable and safe pump operation. The Drainlift M, which is available in both single and double-pump configurations, incorporates a number of features that provide continuous sewage movement and intrinsically safe sanitation.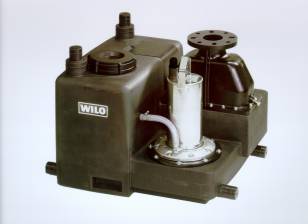 Source Wilo
Delivering reliability and performance, the Drainlift M can provide safe sanitary pumping to both residential and commercial properties. Its cavernous 100/150l tank, featuring a sloping collection chamber, ensures sewage is conveyed directly to the impeller without providing the opportunity for sediment to form. In the case of an emergency, a battery-operated alarm, which works independently of the mains electricity supply, is automatically triggered.
The Drainlift M also minimises installation times by incorporating a fully integrated non-return valve, and reduces noise transmissions through internal insulation strips. The unique and versatile unit, which weighs just 45Kg, can be attached to existing collecting tanks via the system's easily-to-install feed pipes.
Capable of pumping waste at a rate of 55m3/h, the Drainlift M has been launched in two formats - the DrainLift M1 single-pump system and its double-pump counterpart; the DrainLift M2. While both units can pump sewage to a height of 7.5m, the DrainLift M2 has the added versatility of adjusting its performance to prevailing conditions through alternating, standby and peak-load modes.
Mark Sowden, Marketing Manager at Wilo, said: "The DrainLift M has been designed to provide sewage pumping for a range of property types and sanitary demands. More importantly, its unique design brings together performance and safety in a single system."
The DrainLift M joins Wilo's extensive stable of easy-to-use waste and sewage lifting units, which includes wastewater and sewage systems, and moulded sump pumps.
For further information, please contact Mark Sowden, Marketing Manager, Wilo Salmson Pumps Ltd, Centrum 100, Burton-on-Trent, Staffordshire, DE14 2WJ. Tel: 01283 523000, Fax: 01283 523099. Email: sales@wilo.co.uk or visit the Wilo Salmson website at: