In the Service of Bavarian Breweries for 50 Years
All beers – no matter what method is used for brewing them – consist of more than 80 per cent water. This vital basic element is thus also a crucial ingredient for quality and taste.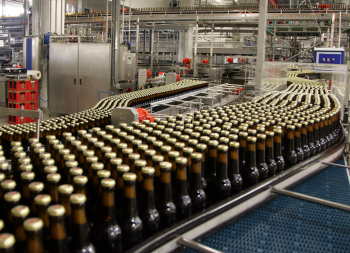 Over two million hectolitres of beer are brewed by the Paulaner brewery every year. Depending on the season, up to 15 different beer specialities can be on offer. (Image: Paulaner Brewery, Munich)
The cost for extracting the brewing water, especially for premium beers, is correspondingly high.
The Paulaner brewery in Munich pumps its own brewing water from four on-site wells which are up to 240 metres deep. In this way, so-called tertiary water, which dates back to the last ice age and is about 13,000 years old, is pumped. Because of its age and the great depth of the wells, this particularly soft brewing water is free of environmental influences and makes an important contribution to the excellent taste of the beers brewed with it. Only submersible-motor pumps of the Dortmund pump manufacturer WILO SE are used in extracting it, which ensure the reliable supply of an annual production of over two million hectolitres.
Paulaner is one of the top ten breweries in Germany and stands for Bavarian brewing and the Bavarian lifestyle. The brand s tradition dates back to 1634, when the Minim monks (called "Paulaner" in German after their founder, St. Francis of Paola) in the monastery of Neudeck ob der Au began brewing beer. Today the Paulaner brewery has 15 different beer specialities, and is, among other things, the national leader in the segment of unfiltered wheat beers. The experience of brewers, the use of the best raw materials and the utilisation of modern technology guarantees the best product quality on the basis of the Bavarian Purity Law of 1516.
Wilo pump technology for special brewing water
So that the quality of the pristine glacier water used as brewing water is not impaired, using high-quality materials in the conveying pumps is very important. That s why brewers have counted on pumps of the "Wilo-EMU K" and "Wilo-EMU NK" series or their predecessors for almost 30 years. For 50 years, EMU pumps have been used for brewing in Bavaria. The company EMU Unterwassermotorpumpen GmbH started operating as a subsidiary of WILO SE in 2003 and merged with them in 2010.
Currently, the Paulaner brewery has nine "Wilo-EMU" submersible-motor pumps in stock. Four of these are installed in deep wells in order to pump the tertiary water. Pumping is done from only one well until a predetermined amount of water is reached. Then the pump switches off and the next well is used. In this way, all four deep wells supply water at the same capacity. In total, the four pumps deliver 900,000 m³ of glacier water a year.
Long lifetimes for optimal supply security
Much is demanded of the pumps. But they are sturdy and durable. One pump, for example, that was manufactured in 1984 is still in service and has had to be repaired only once, in 2004. The regular maintenance of the pumps also contributes significantly to their reliability. "If we regenerate or restore a deep well, the pump in it will also be replaced. That s usually the case every four to five years. After it s been removed, we send it to Wilo for overhaul. Then it is put in stock as a reserve pump", says Dr.-Ing. Johannes Fischer, chief department manager of Energy Systems and Industrial Engineering at the Paulaner Brewery. The supply of water is thus largely secured, and production interruptions practically eliminated. Thanks to Wilo pumps, beer drinkers around the globe can enjoy Paulaner s beer specialities at any time.