Improved Compact Diaphragm Pump Delivers Performance Benefits
Machine builder's requests for a small diaphragm pump for use with water or chemicals have now been answered with the launch of the recently improved Series PB from SMC.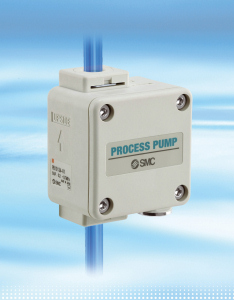 SMC Pneumatics
Developed as a part of their expanding process pump range, R&D engineers from SMC, experts in pneumatics, have taken their existing PB diaphragm pump and have made it both smaller and lighter and, at the same time, improved the pump's performance and its operational service life.
Currently available in three model options and with air operated or solenoid valve operated types, these palm sized, high performance pumps deliver flow rate performance between 8 – 2000ml/minute. Suitable for use with a wide range of fluids, Series PB air operated types are the perfect solution when working with flammable liquids.
In summary, both the solenoid valve operated model PB1011A and the air operated PB1013A share many of the same features including body wetted polypropylene and stainless steel parts. However, the air operated PB1313A model, which is assembled in clean room conditions and is double wrapped when delivered, is constructed with a combination of PFA or PTFE wetted materials.
The pump can be easily maintained and offers an improved particulate penetration protection. Thanks to its improved check valve design, these pumps require no priming and can draw fluid even when the pump is dry.
These improved Series PB proceed pumps are particularly suitable for detergent, reagent, cleaning fluid transfer applications and coolant liquid collection.