impeller.net Sales Platform Available in Five More Languages
The international sales platform for centrifugal pumps - impeller.net – has been expanded by five additional languages and is now available in Russian, Polish, Czech, Greek and Turkish. The expansion increases the user-friendliness of the pump selection tool in particular and makes a decisive contribution to the international orientation of the Internet portal.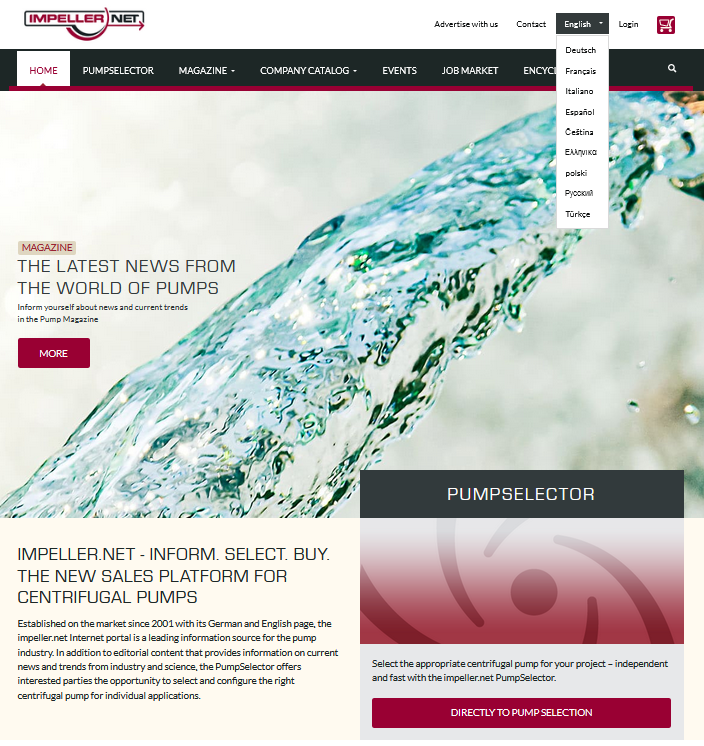 As of now, the impeller.net Internet portal is also available in Russian, Polish, Czech, Greek and Turkish. (Image source: VSX - VOGEL SOFTWARE GmbH)
The cross-manufacturer pump selection via the impeller.net Internet portal is gaining in popularity, as it enables users not only to search for suitable pumps but also to compare them with one another. And once a pump has been found, it can be ordered directly via a linked online shop, if available. Additional information such as industry news, a company catalog and a comprehensive encyclopedia round off the online offering.
"We expect the activation of the new languages to primarily improve penetration of local markets, as there are still language barriers that can be overcome in this way," explains Jens-Uwe Vogel, Managing Director of VSX - VOGEL SOFTWARE GmbH. "Now, smaller planning and craft companies will also be able to use the pump search without having to master the English language."
The new impeller.net Internet portal was launched at the beginning of 2020. Besides the content of the magazine, the portal focuses on the impeller.net PumpSelector, which brings together buyers, manufacturers and sellers on an open platform. It uses an interface to access manufacturers' data directly, thus offering users all the information they need clearly arranged on a single website. Interested parties enter the operating data and keywords for the area of application or the design and are shown suitable pumps based on their specifications. These can be sorted and filtered according to various criteria. In the subsequent configuration, the users select the available options, such as material design or connection. The possibility of directly comparing pump models is particularly helpful.
Currently, the product areas of 'Heating, air conditioning, cooling', 'Water supply', 'Drainage and sewage' and 'Industry' are covered by pumps of the following manufacturers: Bungartz (Germany), Papantonatos (Greece), Pentair Sta-Rite (Italy), Pentair Jung Pumpen (Germany), Shakti (India), Tsurumi (Europe) (Germany), Wilo (Germany) and Zenit (Italy). Other manufacturers are expected to follow soon.