IFAT Eurasia 4,000 Trees for Climate Protection
Setting an example for climate change – that is the goal of the reforestation project of the environmental technology trade fair IFAT Eurasia. A total of 4,000 trees have been planted in the Balıkesir province, in western Turkey, since February 2017. The IFAT Eurasia Memorial Forest covers an area of 4.5 hectares.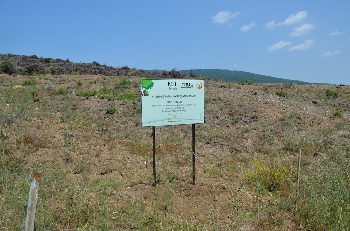 With 4,000 trees, IFAT Eurasia is setting an example for climate change (Image: IFAT)
Following the successful implementation of the reforestation project, Stefan Rummel, Managing Director of Messe München, noted: "When it comes to protecting our climate, each one of us has an obligation. With IFAT Eurasia, we offer the most important environmental platform in the Eurasian market and encourage the use of green technologies. The IFAT Eurasia Memorial Forest is another visible sign for the fight against climate change."
Trees store carbon dioxide and help purify the air efficiently. They also naturally store water and are essential for controlling floods and reducing erosion. This is where the reforestation project comes into play. The Turkish Foundation for Combating Soil Erosion, for Reforestation and the Protection of Natural Habitats (TEMA), the largest Turkish NGO in the environment sector, supported the reforestation process.
The exhibitors at IFAT Eurasia 2017 were also involved in the project,
as Osman Bayazit Genç, Managing Director of the Messe München Eurasia subsidiary, emphasized: "In February of this year, at IFAT Eurasia, we deliberately did without the popular exhibitor evening event. The expenses saved were invested in the IFAT Eurasia Memorial Forest. Together with our exhibitors, this is our way of making a symbolic contribution to a greener future." Matteo Molena, Business Development Manager at Sattler Ceno TOP-TEX, emphasizes how popular the initiative is among the exhibitors: "We are pleased that the trade fair organizers have instigated the project and are proud to be part of it!"
With 11,326 trade visitors, IFAT Eurasia 2017 has confirmed the positive trend of the Eurasian environmental technology industry. On an exhibition area of 17,000 square meters 230 exhibitors showcased their technologies and solutions for the areas of water, sewage, refuse and recycling. A total of 412 companies were represented.