IFAT 2018 to Spotlight Sustainable Road Construction
The 2018 edition of the World's Leading Trade Fair for Water, Sewage, Waste and Raw Materials Management will for the first time also incorporate the issue of "sustainability in road construction". From May 14 to 18, a special show on the Munich exhibition site will address resource-saving procedures and machines as well as durable materials for road engineering.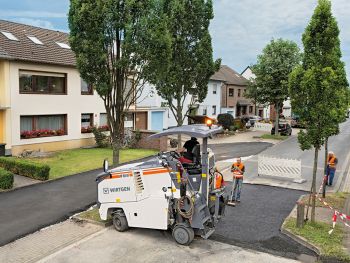 Sustainable road construction (Image: IFAT)
This novelty is a major gain for Silvia Fritscher, IFAT's Exhibition Director at Messe München: "Thus, we strengthen current and future trending topics within the sector—which is our claim as the world's leading trade fair. Focusing on sustainability, the special show's product range covers the entire process chain in road construction—from road demolition to the conditioning/recycling of construction materials and their installation. Fritscher continues: "The special exhibition provides additional value for our municipal participants. But it also addresses construction companies, engineering offices and road construction authorities."
Conceptual partner is the German Association of the Building Industry, and Environmental and Mechanical Engineering (VDBUM) that will organize specialist presentations to complement the special show. The program's key topics will include the state of the art in road demolition, deconstruction and conditioning of materials for recycling, optimization of logistics processes, quality assurance and future tender requirements.
Digitization plays a vital role as well, VDBUM's Managing Director Dieter Schnittjer explains: "Digitization hits the construction sector with great force. Especially in road construction there are processes that digital technologies can make more efficient, more calculable and safer in terms of the documentation. Together with the professional experts we want to present these solutions at IFAT 2018."