Hygienic Screw Spindle Pump Sets New Standards
With the Hyghspin screw spindle pump from German-based Jung Process Systems food and beverage producers are now able to use just one pump for gentle transport and cleaning of fluids. This pump is an ideal alternative to rotary piston pumps.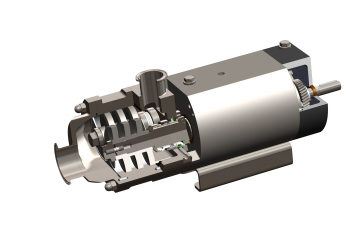 Hyghspin has been developed with all requirements of hygienic design. (Photo: Jung Process Systems)
More than 100 units sold in the first six months after the market launch are evidence of the positive market response. The special economic benefit of Hyghspin is the pump's suitability for product conveyance as well as cleaning with CIP fluids. This means that special CIP pumps, bypass lines and the relevant valves and I&C systems can be dispensed with. There is also an improvement in cleaning results, as the entire cleaning medium flows through the pump. The twin-screw Hyghspin complies with the design principles of Hygienic Design and is EHEDG-certified. 3A standard certification has also been applied for and is expected to be granted shortly. The sturdy mechanical seals are completely immersed in the flow channel to enable extremely efficient cooling and cleaning processes. All elastomers coming into contact with products are designed in the shape of easy-to-clean forming rings.
The new pump series in four sizes is laid out for flow rates ranging from 30 l/h to 200 m³/h with a maximum pump pressure of 16 (optionally 25) bar. Thanks to the axial feed concept, high suction rates are achieved with rotation speeds ranging from 50 to 4000 rpm. The non-contact feed screws are a special advantage ensuring extremely gentle treatment of the media, so that even products with a high viscosity, such as melted cheese, or products mixed with solid chunks can be transported without any problems. The pump is safe to run dry, features a low pulsation level and transports fluids with up to 60 percent gas content. Its rotation can also be reversed to allow operation in both directions.
Thanks to this function in particular, the highly versatile Hyghspin screw spindle pumps are specially suited for unloading trailers or tanks containing fruit juice concentrate. After the trailers or tanks have been emptied, the feed line can either be rinsed with water and cleaned or evacuated by reversing the flow direction.