Hygienic Centrifugal Pump
The new centrifugal pump series TP for lower flow rates completes the well-known Tuchenhagen®-VARIFLOW KN series.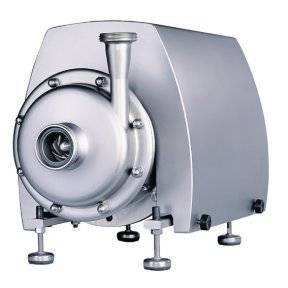 Source Tuchenhagen
The TP series covers the lower capacity ranges with a flow range of up to 40 m³/h. Like the KN series, the TP series is characterized by gentle product handling, optimum efficiency and ease of maintenance.
The centrifugal pump type TP is designed for the hygienic pumping of biologically demanding media up to a viscosity of 500 mPas. Low flow velocities and gentle discharge of media through the spiral housing ensure extremely gentle product handling.
The spiral housing for the TP series is made of rolled stainless steel. This material has an excellent surface quality of Ra = 0.8 µm which is essential for optimum cleaning in CIP/SIP processes.
The concept which has been designed with economic efficiency in mind offers many advantages:
Flow rates of up to 40 m³/h
Pump heads of up to 50 m w.c.
Open impeller with optimum hydraulic properties
Low-noise operation
EHEDG approved
More information at ACHEMA in Frankfurt, 19 - 24 May 2003
GEA Stand in Hall 4.0, Stand D 15 - G 21
or at