Hyghspin H Opens New Possibilities for Conveyance of Non-flowable Products
Jung Process Systems will show the new developed hopper pump Hyghspin H at AnugaFoodTec. With this new screw spindle pump the company presents its capability again to react to the market requirements by means of intelligent solutions applicable for the food industry because the feeding of non-flowable products generates considerable challenges to the food producers.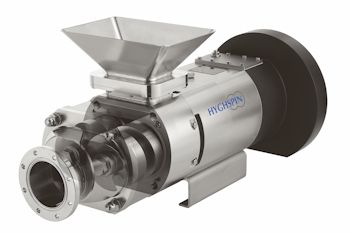 Hyghspin H for Non-flowable Products (Image: Jung Process Systems GmbH)
During the past months the Hyghspin H series already has proven itself several times exactly for these applications in the everyday life of production.
The transport of products with extremely high viscosity belongs to the daily routine in many enterprises of the food industry. Once the products do not flow freely any longer, they have to be brought compulsorily and by means of external auxiliary equipment into the feeding units, a difficult endeavour under hygienic conditions. The Hyghspin H pumps transport the product compulsorily through a hopper and via a feed screw extruder unit into the pump. Moreover this particular design of the feed screws facilitates a pressure increase up to 10 bar. Because of the excessive viscosity of the products the pumps operate at low speeds of up to 400 rpm. Food producers are continuously and urgently looking for new solutions – as a proof for this fact Jung Process Systems already assembled 15 Hyghspin H pumps since their market launch in September 2014, for the handling of many varied media such as dough, cold chocolate mixture, sausage meat, frozen fruits, mash and mozzarella.