Hydromatic Introduces New Submersible Non-Clog Pumps
Hydromatic introduces a new series of submersible 4 inch non-clog pumps for wastewater pumping applications, the H4H and H4HX Series. The new field-proven Hydromatic H4H Series yields the best of both worlds by providing...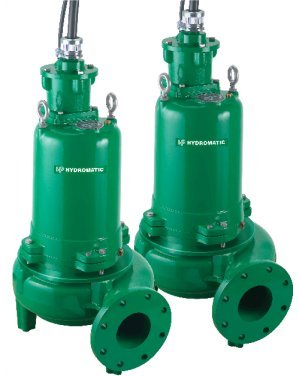 The New Hydromatic H4H (photo: Hydromatic).
... greater efficiency and a steeper non-overloading performance while passing a full three inch spherical solid (as required by the "Ten States Standards" policy for submersible non-clog pumps) due to the enhanced geometry of the mono-vane impeller. The new Hydromatic H4H Series features a smoother design, reducing the chance of possible plugging. The new H4H Series yields steeper, non-overloading performance with flows up to 850 GPM and heads to 105' TDH. Available in 7.5HP through 15HP motors with speeds up to 1750RPM, the new H4H Series, encompasses a VFD (variable frequency drive) rated motor with Class H insulation.
The F.M. approved, explosion-proof H4HX Series are rated Class I, Division1, Group C and/or D for hazardous locations. The certified explosion-proof H4HX Series can be used for applications such as sewage wet wells where flammable gases exist. A reliable and safe operation is ensured as all castings are inspected for porosity before, during and after machining. The new H4H and H4HX Series are available with a choice of either a dependable Hydromatic PR (Pultruded Rail) or a reliable MTM (metal to metal) lift-out rail system. Non-sparking rail options for hazardous locations are also available. The new Hydromatic H4H non-clog pump, a preferred rail system and a quality control panel are available from Hydromatic for a complete package system.
Hydromatic is located in Ashland, OH, USA with distribution throughout North America and Canada. Founded in 1959, Hydromatic is a leader in the wastewater pump collection systems market serving the municipal, commercial, industrial sewage, and residential worldwide markets. Hydromatic is a part of Pentair Water, a division of Pentair, Inc.