Hydromatic Introduces A New Series of Submersible Basin Mixers
Hydromatic has released a new series of submersible basin mixers known as the HBM200 Series. Compared to spending costly time on maintenance wash downs of problematic lift stations, the HBM200 Series is designed to automatically break up solids and grease that commonly float at the top of the lift station and interfere with proper operation of equipment such as float controls and lift outs.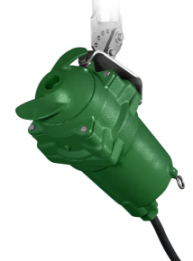 Hydromatic Basin Mixer
The HBM200 Series will also help prevent a lift station from going septic during periods of low activity. The HBM200 Series features various mounting options which allow the unit to be placed at any elevation or angle to target trouble spots in an installation, including a custom rail system that allows for ease in maintenance.
Hydromatic is located in Ashland, Ohio, with distribution throughout North America, Canada and all other continents around the globe. Founded in 1959, Hydromatic is a leader in the wastewater pump collection systems market serving the municipal, commercial, industrial sewage, and residential worldwide markets. Hydromatic is a part of Pentair Water, a division of Pentair, Inc.