Hydromatic Announces The H-Series All New Submersible Grinder Pumps
The new Hydromatic H-Series of submersible grinder pumps offers a field-proven, low-cost solution to transport sewage and wastewater. Hydromatic offers centrifugal and positive displacement grinders for residential, commercial, and municipal applications. The Hydromatic H-Series of new submersible grinders offers a significant cost savings over conventional gravity-fed systems.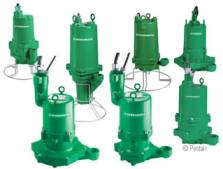 ALL new submersible grinder pumps - H-SERIES (source: Pentair)
Features for specific models include:
Durable dual ball bearing design
Moisture sensor for maximum protection
Three barrier seal within the cord assembly for a reliable operation
Dual cutter design allowing for optimum cutting life and performance.
About Hydromatic
Hydromatic, founded in 1959, is located in Ashland, Ohio, with additional distribution in Canada. Hydromatic is a manufacturer of wastewater products for residential, commercial, municipal, domestic and international markets. Hydromatic, an ISO 9001 registered quality system, is a part of the Pentair Pump Group of Pentair, Inc.
Pentair (NYSE: PNR) is a St. Paul-based manufacturer whose core businesses compete in Tools, Water Technologies, and Enclosures markets. The company employs 11,500 people in more than 50 locations around the world. Additional information at www.pentair.com