HVACR/PS Indonesia 2015 Opens Its Doors in November
Industrial professionals worldwide will gather for 3 days at Jakarta International Expo for the most anticipated industry event this year - HVACR/PS Indonesia 2015. A platform showcasing the very best and latest in heating, ventilation, air filtration & purification, air conditioning, refrigeration, Pumps, Valves & Compressors, HVACR/PS Indonesia 2015 sets to meet the demands of exhibitors and visitors to find the right supplier for their business projects.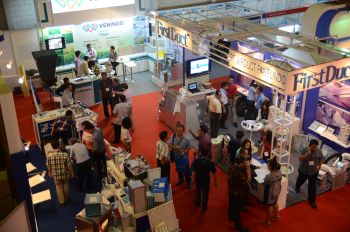 HVACR/Pumps/Valves/Compressors Indonesia (Image: HVACR/PS Indonesia)
HVACR/PS Indonesia has established itself as one of the most important trade platforms regionally and internationally. In 2014, the exhibition attracted 193 exhibiting companies from 15 countries and welcomed 4,120 visitors, cementing its status as one of the fastest growing industrial trade events in the region.
From 25 – 27 November 2015, the exhibition is expected to welcome more than 200 international and local exhibitors from more than 15 countries and 5,000 trade visitors. The trade exhibition is further enhanced by the presence of exhibiting country pavilions, including China, Indonesia, South Korea, Taiwan and Turkey.
HVACR/PS Indonesia 2015 is privileged to have strong industry support and endorsement from the local government ministries: Ministry of Environment and Forestry, Ministry of Industry, Ministry of Public Works and Public Housing, and Ministry of Trade - National Agency for Export Development. The exhibition is also supported by the following renowned associations: AKI Indonesian Contractors Association, APTEK Indonesia, ASHRAE Indonesia Chapter, BOMA Indonesia, Indonesian Food & Beverage Association (GAPMMI), Green Building Council Indonesia (GBCI), Indonesian Water Supply Association (PERPAMSI), Indonesian Professional Engineer Association (PIPI) and Air Conditioning & Refrigeration Manufacturers' Association (ISKID).
Exhibition Highlights
Technical Seminar Presentations - Educational and technical sessions on the latest products and technologies presented by local and international exhibiting companies.
Industry Training Workshops – Key training issues with regards to the industry will be presented by knowledge experts and key dignitaries.
Industrial Conference - Industry speakers on key issues that are of interest to the industry, providing an opportunity to gain critical industrial knowledge and to increase understanding of the market conditions.