Honda Pump Catalogue Out Now
A new detailed catalogue of Honda powered pumps and pressure cleaners has been released by Australian Pump Industries. Australian Pump, partnering with Honda, has expanded the range and is building up production numbers to help farmers during the difficult period of the drought and the anticipated brutal upcoming firefighting season.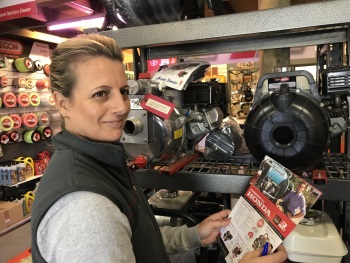 Honda dealer Hempfield Small Motor's Kristina Carr takes a look at Aussie Pumps new Powered By Honda Brochure (Image: Aussie Pumps)
"Since the company was founded around 24 years ago, Australian Pump has worked with Honda to develop a product range that is now sold all around the world", said Aussie Pumps' Brad Farrugia.
The new brochure, which basically is a selection guide, enables farmers, contractors and turf care maintenance people to select from a huge range of Honda powered pumps for almost any application.
The Aussie Quik Prime fire pump range provides a wide line of up to 50 models of high pressure fire pumps suitable for everything from spot dousing of fires all the way through to village fire protection.
The Honda powered Aussie Fire Chief, claimed to be the world's best lightweight portable fire pump, is the star attraction with its big brother, the 'Mr T' twin impeller is also featured. Aussie's Mr T uses up to a 13hp Honda petrol engine to provide big flows at high pressure! It's considered to be possibly the best pump of its kind in the world.
"We've worked closely with Honda engineers to develop our product range over the years", said Farrugia. "Without their constant support and encouragement we would never have been able to produce the world class range of products that we do today", he said.
The new catalogue also shows a full range of high pressure water blasters and drain cleaning jetters. Australian Pump pioneered the high pressure drain cleaning business for the plumbing market and changed the way drains are cleared in Australia and more recently in the overseas market as well!
"Kiwis love our product", said Farrugia. "They're astonished at how fast they can clear a drain with a 4,000 or 5,000 psi drain cleaner!" he said.
The company is also focused on producing high pressure sprayers and leak free chemical transfer pumps for liquid fertilisers, herbicides and pesticides. The range includes both 2" and 3" polyester pumps with a choice of EPDM or Viton seals.
A new 316 stainless steel self-priming pump for chemicals has just been released powered by … Honda!
Regular briefings by Honda on new product developments in engine design have enabled Australian Pump's Chief Engineer John Hales, to evaluate new projects early. "Getting a sneak preview of new product enhances our own R & D, to the benefit of consumers", he said.
Like Honda, Aussie Pumps offer extended warranties on their product range. Aussie Quik Prime, Aussie Smart Pumps (polyester construction for chemicals) and some of the cleaning products carry up to five year free warranty.
"Free extended warranties for our products are a symbol of our confidence", said Hales. "We can drown customers in information about why our product is better than cheap third world gear", he said. "An additional four years extra warranty more than a competitor is a very simple way of stating to the market the complete confidence we have in our product", he said.
Further information including free copies of the new "Powered by Honda" Aussie Pump brochure and selection guide is available from Australian Pump Industries or Honda distributors throughout Australia and the South Pacific.