Historical Pumps Restored at Technical University Munich
In June 2013, KSB Service GmbH completed the overhaul of three historical pumps and their piping systems at TUM, Munich's technical university.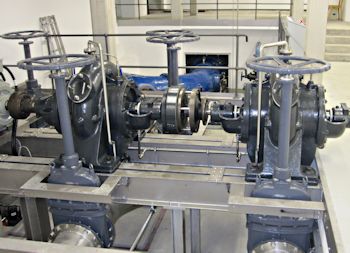 The two double-entry KSB pumps from TU Munich's hydraulic institute are back in their old position after having been overhauled. (© KSB Aktiengesellschaft, Frankenthal, Germany)
The three pumps are located at the university's hydraulic institute, where they have been used for testing as part of hydraulic engineering and water management teaching for a hundred years.
The pump sets from Frankenthal pump manufacturer KSB include two double-entry pumps from 1913 and a single-stage pump from 1916. As well as overhauling the pumps, the service specialists from KSB's Pegnitz site also fitted new valves and replaced the old cast pipes with stainless steel piping. Since the old pumps do not feature flanges standardised to DIN ‒ the first DIN standards were released in March 1918 ‒ the piping manufacturer had to transfer the hole patterns onto the loose plate flanges of the new pipes.
In the past, the two older double-entry pumps shared a 6-pole 90 kW fixed speed motor. This type of arrangement was and is possible since the first pump has a single shaft i.e. a through-shaft allowing both pumps to be coupled together if required. This means that future hydraulics experts can operate the pumps individually or together as needed. Different gate valve positions and variable piping layouts on the suction and discharge sides allow the pumps to be operated in parallel or in series. This piping set-up offers maximum flexibility when changing pump head and flow rate.
In selected areas the pumps are fitted with transparent glass covers through which students can observe flow processes in the pump's interior. In future, a modern four-pole, three-phase 110 kW motor equipped with a frequency inverter allowing its speed to be controlled will be used.
The founder of KSB Aktiengesellschaft, Johannes Klein, completed a portion of his studies in mechanical engineering at the "polytechnic school" in Munich. This was expanded by King Ludwig II into a technical college in 1868, becoming the direct predecessor of today's technical university.
The test installation's return to operation is planned for 11 July 2013.