Highly Efficient Hot Water Comfort for Single-Family Houses
With the new "Wilo-Star-Z NOVA", HVAC craftsmen can now offer owners of single-family and two-family homes very economical high-efficiency pumps for secondary hot water circulation.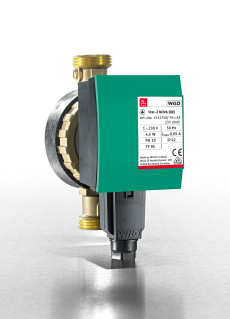 Wilo-Star-Z NOVA (Picture: Wilo)
Considering the fact that old circulation pumps cause considerable operating costs due to their high power consumption, the pump expert WILO SE identifies interesting market opportunities in this field. With annual electricity costs of only 8 Euros at permanent operation, the "Wilo-Star-Z NOVA" is a demand-oriented solution for new installations and products to be replaced.
With the "Wilo-Star-Z NOVA" the German pump expert sets new standards for efficient hot water comfort in single-family houses. The circulation pump with an impeller made of stainless steel offers a maximum service life and hygiene. Its very low power consumption is the result of a very energy-efficient synchronous mo-tor. Compared to older circulation pumps, the "Wilo-Star-Z NOVA" requires up to 80% less power, i.e. only 2 to 4.5 Watt. At the same time, the low power consumption also clearly reduces the operating temperature of the motor and thus of the entire pump. The "Wilo-Star-Z NOVA" has a very wide application range also for calciferous water. It can be applied at water hardnesses of up to 20° dH (dH, Grad deutscher Wasserhärte – degree of German water hardness).
The new circulation pump is characterised by a compact construction and is thus very installation-friendly. Furthermore, the electrical connection of the pump can be realised quickly and without any tools with the innovative "Wilo-Connector", which applies to new installations as well as replaced products. Moreover, the "Wilo-Star-Z NOVA" has a quite flexible service motor which is compatible with all commercially available pump types. So an existing circulation pump can quickly and easily be replaced: You only have to remove the old motor from the housing, then the new service motor with new housing gasket is inserted and put into place.
Due to the extremely low power consumption, the early replacement of a still functioning old pump pays off after a few years already.