Higher Pressure in a Mid-Sized Plunger Pump
CAT PUMPS has responded to the market need for higher pressure in a mid-sized pump with the introduction of the new Model 2510 Plunger Pump rated at 20 GPM, 2000 PSI. Its high pressure performance is ideal for continuous-duty applications such as Hydro Excavating, Sewer and Pipe Cleaning, Coolant Flushing and multi-gun and nozzle systems.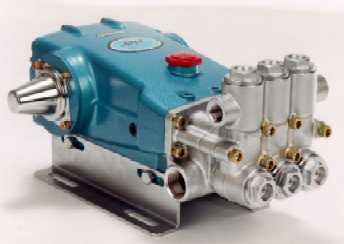 CAT PUMPS new Model 2510 Plunger Pump
The compact footprint [20x15x9"] and less than 90 pound weight make it ideal for in-plant cart installation, as well as, truck or trailer mounted in-field installation. This pump is built with the same high quality components and close tolerance manufacturing of all CAT PUMP models featuring special high strength connecting rods and plunger rods, heavy-duty, six bolt, split manifold design and special blend V-Packings that are self adjusting and supported by CAT PUMPS special Spacers with coil springs. These quality features offer a
near maintenance-free operation and exceptional life for continuous-duty applications.
This new model is also available as a custom designed and tested Power Unit that includes a heavy-duty 2 mill epoxy powder coated, 3/8" steel base with 1/4" channel steel bracing, drive (electric, gas, hydraulic, gearbox or diesel), pump, pulleys, belts, and system accessories.