Higher Efficiency for Submersible Pumps
KSB will be introducing a brand-new generation of their AMAREX submersible motor pump range for municipal, industrial and commercial wastewater at the Interclima fair. The new pumps offer considerably 50 percent higher ...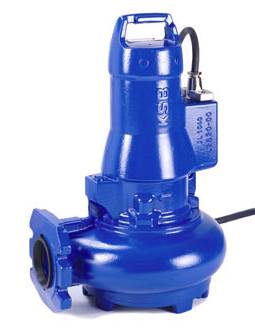 New AMAREX N submersible pumps (source: KSB Aktiengesellschaft, Frankenthal)
efficiencies than the previous models, while retaining their predecessors' capability of smoothly handling fibres or solids as well as gas-laden fluids and sludges. This improvement is a result of the newly designed vortex impellers, optionally available in either abrasion or corrosion resistant special materials.
The range reaches a maximum flow of 155 m³/h and a maximum head of 47 m.
In developing the new model, KSB designers have concentrated on low energy consumption and particularly low life cycle costs. This aim has been achieved thanks to two bi-rotational mechanical seals which reliably prevent water ingress into the motor space. A chamber filled with environmentally friendly oil ensures cooling and lubrication of the mechanical seals even when gas-laden fluids have to be pumped. Generously dimensioned ball bearings sealed for life support the stainless steel shaft. Thanks to the modular design concept, one set of spare parts will serve all four pump sizes, so that spare parts stocks - and thus costs - are reduced.
Special attention has been given to the cable entry, which is a critical point in all pumps operating submerged. Individually stripped, tinned and resin-sealed conductors make the cable entry absolutely watertight, offering multiple protection even in the event of damage to the cable sheath and insulation.
A wide range of standard as well as explosion-proof motors enables optimum matching of the pumps to the actual requirements. Every explosion-proof motor features double winding monitoring to prevent overheating. This allows automatic operation of the pumps.
All screwed connections are made of high-quality stainless steel and designed as M8 hex. socket head cap screws, so that the pumps can easily be dismantled even after years of hard pumping duty. A single tool will dismantle the entire pump, which makes servicing so much easier.
Interclima
Paris Expo
Porte de Versailles
Paris, France
Feb 03 - 06, 2004